It was a visual treat for the on lookers, when the frontline ships of the Eastern Fleet of the Indian Navy and those of the Republic of Singapore Navy (RSN) made their entry into the azure waters of Port Blair in the pristine Andaman and Nicobar Islands on Saturday. These ships arrived at Port Blair for the commencement of the 25th edition of the SIMBEX-Singapore India Maritime Bilateral Exercise.
Started as Basic ASW exercises in 1994, yesterday these exercises have graduated to complex maritime combat drills including missile and torpedo firings and shore based intensive professional exchanges.
There are only a few militaries that can boast of continuity and cooperation in the field of maritime combat drills like the navies of India and Singapore and that too sustained for 25 years.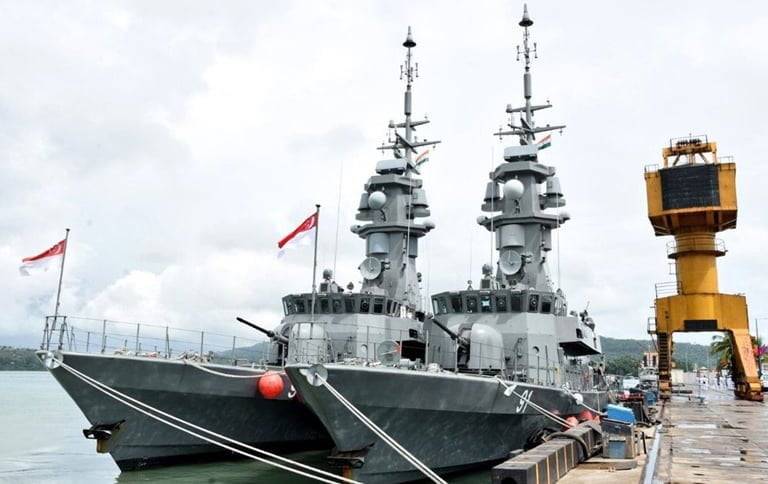 Over the next two days, Port Blair is playing host to Indian Naval Ships Ranvijay, Satpura, Sahyadri, Shakti, Kirch, Kadmatt, Sumedha and Sukanya along with the RSN Ships, Formidable, Steadfast, Unity, Valiant and Vigour. Maritime Patrol Aircraft of both countries–the versatile P8I of the Indian Navy and Fokker F50 from Singapore would also be based out of Port Blair. Local Flotilla ships based at Port Blair would be ensuring seafront security including in the exercise areas towards smooth conduct of the Singapore India Maritime Bilateral Exercise.
Home to India's only Tri-Services Command, the crew of the participating warships and the Maritime Reconnaissance Aircraft and integral helicopters, would go through the last minute Singapore India Maritime Bilateral Exercise coordination details with a fine comb at Port Blair. During the harbour phase, in addition to operational conferences towards preparation of the sea phase of the exercises in the Andaman Sea and Bay of Bengal, courtesy calls by both sides on the Senior Officers are also scheduled.
In addition, Subject Matter Expert Exchanges or SMEE as they are commonly known by militaries worldwide are also scheduled. The SMEEs, have over the years provided a platform to formally exchange best practices of respective navies so that learning and improvement never ceases. Cross deck visits by air crew towards deck familiarisation are also planned.
Also participating in the exercises are RSS Swordsman, an Archer Class submarine and Swift Rescue, a Deep Submergence Rescue Vehicle (DSRV). While the Indian Navy recently inducted a DSRV on the western seaboard and is slated to induct another on its eastern seaboard, it continues to exercise with various navies and assimilate best practices as well as enhance interoperability.
According to a press release the exercises at sea this year are unprecedented and largest of kind in terms of the complexity and weapon firings. The sea phase would be held under Commander Task Group of Joint Forces of SIMBEX-18, Rear Admiral Dinesh K Tripathi, Flag Officer Commanding Eastern Fleet. Senior Lieutenant Colonel Ho Jee Kien, Commanding Officer of 188 Missile Corvette Squadron would be leading the Republic of Singapore Navy during the first sea phase and would also be the Deputy Task Group Commander.