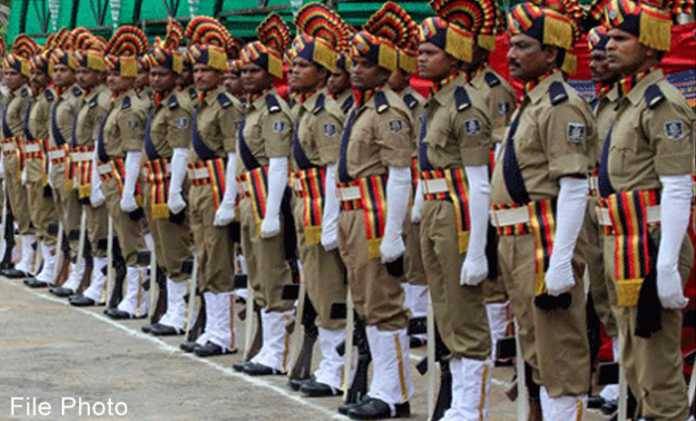 The announcement of raising special five Indian Reserve Battalions in Jammu and Kashmir by the Union Home Minister Shri Rajnath Singh on Friday has raised hopes of scores of youth to get employment. The Minister said that border youth would be provided 60 percent quota in these battalions. Not many of you may know of IRB and its role. Is it a police or paramilitary force ?
What is Indian Reserve Battalion ( IRB and its role ?
India Reserve Battalions is neither a police nor para military force. It is a special armed force of a particular state. Introduced way back in 1971 by the then government at centre to have an armed police force on the pattern of Central Para Military Force of CMPF. The raising cost of this force is borne by the central government. The IRB has been in demand eversince its introduction. There are now 153 battalions sanctioned to various states. Then government introduced the scheme of Indian Reserve Battalions in 1971 and so far, 153 battalions have been sanctioned to various states. The job of IRBs is to protect state from terrorist and Maoist attacks.
IRB's Job Responsibilities:
To assist the district police in maintenance of law & order.
To perform elections, law & order duties in the state as well as other states.
Disaster management – natural calamities & manmade.
To provide force for duties such as celebrations of Trade Fairs.
To perform other duties assigned by the Government time to time.
Some of the IRBs in following states have been working for the last few years.
Some of the IRBs working in different states:
Rajasthan: Rajasthan has Maharana Pratap India Reserve Battalion way back in 2016.
Special India Reserve Battalion was raised for Naxal area in 2011.
Haryana: Indian Reserve Battalion had been established by the Government of India for the State of Haryana in year 2001 . IRB. is governed by the provisions of Punjab Police Rules 1934 as adopted by the State of Haryana Police Act of year 2007 (Haryana Act No. 25 of year 2008).
Job Responsibilty:
This force helps local Police in performing its law and order duties and other important and sensitive duties like election duties within or outside from the State of Haryana. India Reserve Battalion is bound to give its best in maintenance of law and order whenever and whenever required.