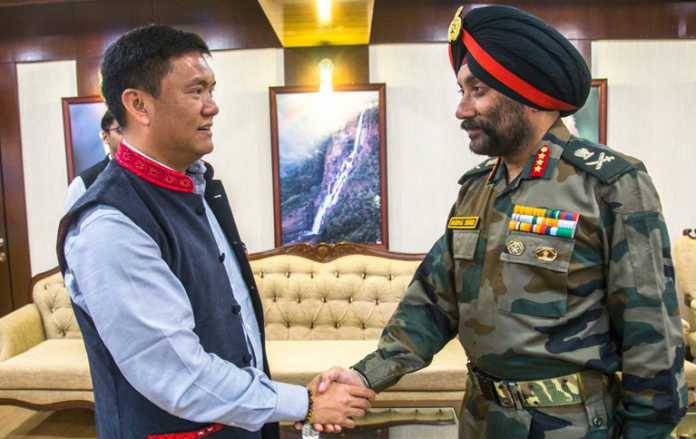 Director General of Border Road Organization (DGBR), Lieutenant General Harpal Singh inspected the various under construction sites including road projects, at strategic locations in Arunachal Pradesh, an Indian State which shares its borders with China. He also met Governor and Chief Minister of the state and apprised them about the progress of project.
DGBR Lt. Gen. Harpal Singh , carried out inspection of Road Tama Chung Chung (TCC) – Taksing and Tama Chung Chung – Bidak. During inspection of sector, Lt. Gen Harpal Singh was accompanied by Brigadier R S Rawal who is the Chief Engineer of project Arunank . While expressing general satisfaction towards the works, Lt. Gen Harpal Singh stressed upon maintaining the quality as well as to meet the planned date of completion.
Travelling by road from Taksing to Gelensiniak-Bidak, Lt. Gen Harpal Singh reached at Limeking. Enroute the DGBR inspected the ongoing road construction and took stock of plan of Bailey Bridges on various locations NALLAHS and rivers, for fair weather connectivity, to Taksing and Bidak. Lt Gen Harpal Singh was convinced about the difficulty of terrain, unpredictable weather and the constraints of local resources in the region which posed huge challenge to Border Road Organisation (BRO) in timely completion of the roads. Director General met the BRO personnel and CPLs at various work sites, complimented and exhorted them to keep pushing forward so that connectivity on these roads could be established.
Lt Gen Harpal Singh carried out the inspection of Hapoli- Sarli-Huri Road on Wednesday . He expressed his satisfaction at the pace of progress and directed that the PDC for connectivity should be met at all costs. General Harpal Singh complimented them for their dedication in working in extremely remote area with tough terrain conditions and persistent inclement weather.
During his two days visit Lt Gen Harpal Singh also met Governor Dr B D Mishra , who is retired Brigadier of Indian Army and Chief Minister Pema Khandu and apprised them about the status of road construction work.