The real hero of historical Longewala battle in 1971, Maha Vir Chakra Brigadier Kuldeep Singh Chandpuri has left for heavenly abode. He breathed his last on Saturday morning at 9am at a local hospital in Chandigarh. Seventy eight year old Chandpuri was suffering from cancer for some years.He is survived by his wife and three sons. The war hero would have celebrated his 78th birthday on November 22.
Based on the Battle of Longewala during the Indo-Pakistani War of 1971, Border film is an adaptation from real life events that happened in the battleground. Actor Sunny Deol played the character of Brigadier Kuldeep Singh Chandpuri.
Brigadier Chandpuri's courage and conviction at the Longewala battlefield is known to all. Precisely for this reason, this Major Chandpuri with dynamic leadership qualities was awarded with the nation's second highest gallantry war. Longewala is a remote outpost in the deserts of Jaisalmer, where a relatively small group of Indian soldiers held off a massive Pakistani attack through the night in the early days of the 1971 war.
Brigadier Chandpuri had a choice to put and defend the position at Jaisalmer or retreat but the dynamic Army officer decided to stay put and fight back. He and his personnel defended it successfully even after being outnumbered and surrounded because he and his team stopped Pakistani infantry to advance till the dawn and the Indian Air Force came in.
He had inflicted heavy causalities on the enemy and forced them to retreat leaving behind 12 tanks. This is what his citation for his award state,"Major Kuldeep Singh Chandpuri was commanding a company battalion of the Punjab Regiment occupying a defended locality in the Rajasthan Sector. On December 5, 1971, in the early hours of the morning the enemy launched a massive attack on this locality with infantry and tanks.
Major Chandpuri exhibited dynamic leadership in holding his command intact and steadfast. Showing exceptional courage and determination, he inspired his men moving from bunker to bunker, encouraging them in beating back the enemy till reinforcements arrived. In this heroic defence, he inflicted heavy causalities on the enemy and forced them to retreat leaving behind 12 tanks.In this action, Major Kuldeep Singh Chandpuri displayed conspicuous gallantry, inspiring leadership and exceptional devotion to duty in keeping with the highest traditions of the Indian Army."
Longewala battle is a story in itself. The most important thing was that Pakistan lost 34 tanks, around 500 vehicles and 200 (approximately) jawans in just two days, while making an attempt to grab Longewala checkpost in Jaisalmer district.
Brigadier Kuldeep Singh Chandpuri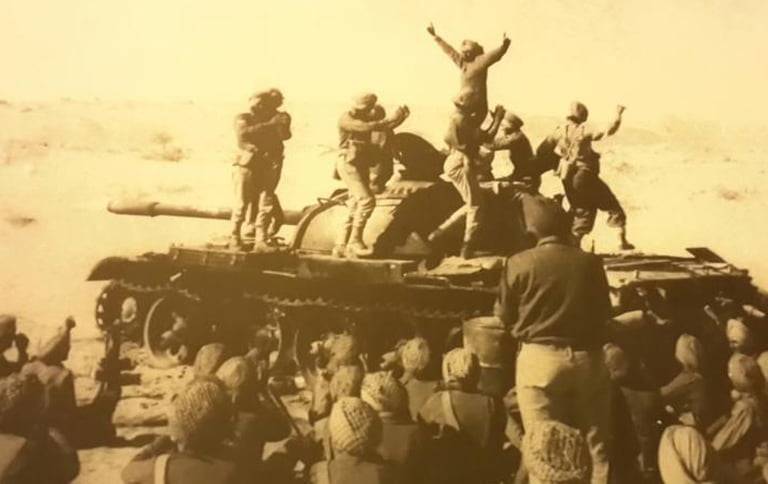 Service Journey of Brigadier Chandpuri:
Kuldeep Singh Chandpuri was born on November 22, 1940 in Montgomiri in undivided Punjab which is now in Pakistan. At the age of 22, he had joined the 23 rd Battalion of the Punjab regiment. Punjab regiment is one of the oldest and popular unit.
He had passed out from the Officers' Training Academy, Chennai, in 1963. After that he was commissioned into the 23rd Battalion of The Punjab Regiment. He took part in the 1965 war in the western sector and, thereafter, served in the United Nations Emergency Force (UNEF) at Gaza in Egypt for about a year. He also served twice as an instructor at the Infantry School, Mhow.
Brigadier Chandpuri and controversy:
Border film which was based on Brigadier Chandpuri's, became popular and set new records.  Brigadier Chandpuri got upset over the controversy surrounding his roel in the famous battle of Longewala's authenticity. Credited with the splendid victory at that time, the war hero then filed a defamation suit of Rs one against Air Marshal (retd.) M.S. Bawa and Maj Gen (retd.) Atma Singh, and said, "the two of them were not there" while he was fighting the war. He demanded justice.