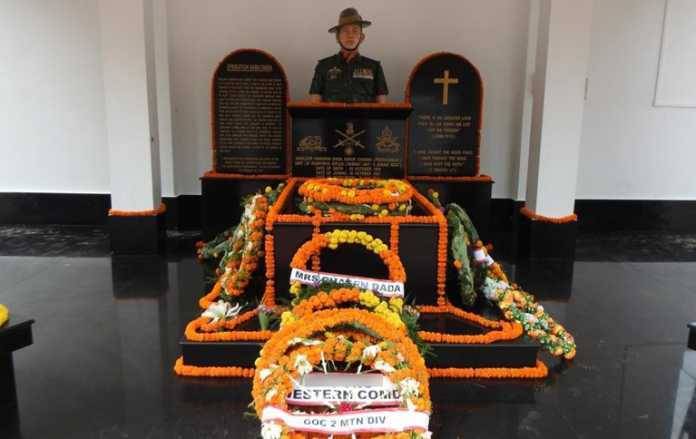 It has been two years that Havildar Hangpan Dada laid down his life on May 27, 2016 for the country. But this brave soldier's contribution is still fresh in the minds of his family, friends fellow colleagues and common people. Dada had valiantly fought in the treacherous Shamsabari range in North Kashmir and eliminated four heavily-armed terrorists who had infiltrated into North Kashmir from Pak-occupied-Kashmir (PoK).Awarded with Ashok Chakra, highest award for a soldier, Hangpan Dada was a favourite of his two tiny children, a messiah to his friends and an inspiration to his colleagues. It was sheer grit and determination displayed by Havildar Hangpan Dada, who killed four intruding terrorists before laying down his life at the height of 13,000 feet in the harsh and icy Himalayan range of North Kashmir, that won him the Ashok Chakra.
A short film titled ,:The Warriors Spirit", on youtube, on Dada's humble background, his dreams and commitment to serve the army, has been viewed by many time and again. The film showed his grit and determination to fight the enemy and bites with his family, friends, and others, besides his love for the army and country. All this won him accolades.He was honoured posthumously, with the government announcing the highest award to an army man during peace-time operations on August 14, 2016.
In view of his valuable contribution to his service, the Assam Regimental Centre (ARC) has named its main office block in its headquarters after Hangpan Dada. The plaque was inaugurated by Dada's wife. Pema Khandu, the then chief minister of Arunachal Pradesh has renamed the annual football and volleyball (men and women) tournaments for Chief Minister's Trophy as Hangpan Dada Memorial Trophy.
Hangpan's background
Hangpan was born on October 2, 1979 in the tiny village of Borduria near Khonsa in Arunachal Pradesh's Tirap distrct. He was enrolled in the Assam Regiment of the Army in 1997.He was posted to 35 Rashtriya Rifles in May 2016, the unit with which he was serving when he was killedThe RR is a force carved out for counter-insurgency operations.
His team colleagues used to call him ' Dada'.
His last posting was at the high mountain range. In the last week of May 2016, Dada along with his team spotted the movement of terrorists in the area and lost no time in engaging them in a fierce encounter that went on for over 24 hours. Brave Dada took the enemy head-on. He charged at the spot where terrorists were holed up and killed two terrorists on the spot and later the third one after a hand-to-hand scuffle as they slid down the hill towards the Line of Control.
Dada was badly injured in the encounter as the terrorists who crossed over from PoK had a slight height advantage. His colleagues reportedly said that he had displayed raw courage, unflinching grit, presence of mind and with utter disregard to his personal safety and despite bleeding profusely, discharged his duties and made supreme sacrifice for the nation. Thanks to Dada's presence of mind, he had managed to save the lives of his team members who came under heavy fire from the terrorists.
He is survived by his wife Chasen Lowang, 10-year-old daughter Roukhin and six-year-old son Senwang. Interestingly, his son is keen to join the army and serve the nation. One can say that Dada was definitely an inspiration for his son who likes to follow the path of his late father. Rakshaknews.in salutes this brave soldier which will certainly an inspiration to many of the youngsters living across the country to join the army to serve the country in the most challenging conditions.On the second martydom anniversary on May 26, the Dao Division of IndianArmy inaugurated a memorial of Hav Hangpan Dada, AC at his native village Tirap in Borduria district. His wife Chasen , his children , local MLAs and government officials were present on the occasion.