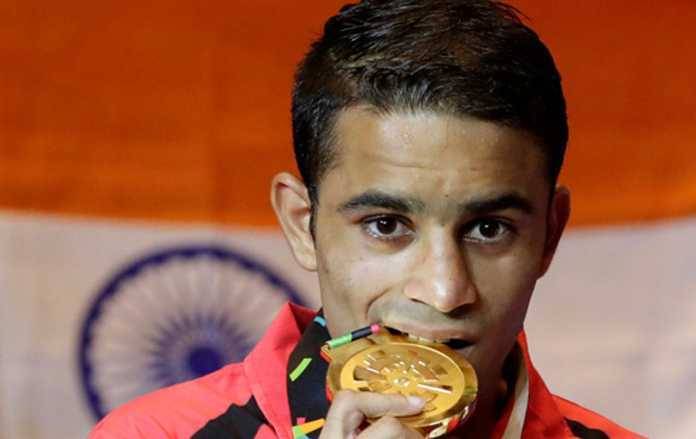 Naib Subedar Amit Panghal won India its only gold in boxing in the light flyweight (49 kg) category by beating current Olympic champion Hasanboy Dusmatov at Asian Games in Indonesia. Panghal who is known for his fighting spirit, got India's first gold in the 49kg class at the Asiad.
Panghal's gold medal has made both India and Indian Army proud. He is the eighth boxer which has won medal for India. Amit took to boxing after watching his older brother Ajay spar at the boxing academy run by coach Anil Dhankar. He began boxing at the age of 12 but his weight was a concern for the family and the coach because he weighed 24 kilograms only. The family was worried about his safety. According to Amit's father, Vijender, when he initially showed interest in boxing they were worried because of weight. But his coach Dhankar spoke highly of his determination and will power. " We relented and allowed him to box," Amit's father Vijender says. "When he won the gold medal in sub-junior nationals in Maharashtra just two years later we were so proud of him. He went around the village showing everyone his medal," Vijender adds.
Panghal has an impressive record. He had won a Commonwealth Games silver. He was the only Indian in contention for the finals after Vikas Krishan had settled for bronze. It was a steep ask against the fancied Olympic champ, but striking on the counter and tiring him out, Panghal kept energy levels high, raising the tempo in the last half of the third round, to put the matter beyond doubt.
Amit Panghal followed his elder brother and became boxer. His elder brother is an armyman who had taken leave just to watch his kid brother right. Amit joined the Army quite recently. For Amit, the inspiration from his brother and coaching by his uncle was enough to draw him to boxing.He watched reels of video. He saw them again and again which drilled into his mide for this battle of southpaws.
Born in Haryana's Rohtak district, Amit was determined to prove his mettle in Saturday's final. The pressure on him was more especially after he had erred in the opening rounds in the semis, starting slow and having to catch up. Unlike the semis, where the bout was late in the evening, Panghal had to wake up at 5 am and cut ½ a kg in weight before stepping onto the scales for a 2 pm fight. So the day began with intense skipping and running – and lesser time to rest, eat and rehydrate. Panghal had to overcome the man he had lost to twice.It was not so easy in the afterthought. But Amit was more confident than the one went down to Dusmatov before.
Interestingly, Amit is hard working boxer who is supremely focused. He has a great speed in both attack and footwork. He has all the qualities of a champion.He is the most relaxed ofall the boxers. But he is most aggressive while in the rings. In the final match, he proved it.Prime Minister Narendra Modi praised him for winning gold. Minister Rajyavardhan Rathore also appreciated his performance. Rakshaknews.in congratulates Amit Panghal for winning the gold in Asian Games.