India is now capable to fire nuclear weapons from land , air and sea. With the INS Arihant completing patrol, India's long awaited nuclear triad becomes fully operational. This was anounced by Indian Prime Minister Narendra Modi while welcoming the crew of Strategic Strike Nuclear Submarine (SSBN) INS Arihant. The submarine recently returned from its first deterrence patrol, completing the establishment of the India's survivable nuclear triad.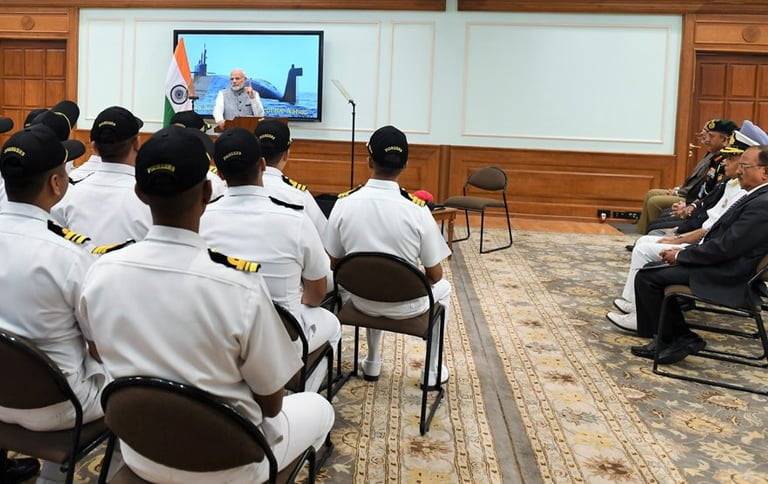 PM Narendra Modi congratulated the crew and all involved in the achievement which puts India among a handful of countries having the capability to design, construct and operate SSBNs.
HOW IT ALL STARTED :
India started its hunt for Nuclear Submarine in 1970 s and in 1990's started construction of 3 SSBNs (nuclear- powered subs with nuclear-tipped missile ) under the secret Advanced Technology Vessel. Apart from DRDO , BAARC etc. many other agencies , including Russian were involved for technical help .
MILESTONES :
INS Arihant was launched into water at ship building cente at Vizag on July 26, 2009 and in December 2014 INS Arihant heads for extensive trials in sea. these trails included test firing of K-15 missiles.
Finally , INS Arihant was commissioned in August 2016 . In October 2018 , ambitious project INS Arihant completed first deterrence patrol. Total cost of ATV reached Rs. 90,000 crore .
SSBNs in Indian Naval parlance, is considered to be much secure and survival platform for retaliatory strike at enemy. INS Arihant can remain undetected in deep water for months
INS ARIGHAT:
Meanwhile , INS Arighat , the second nuclear submarine of India , is expected to become operational in 2020 . It was launched last year at the ship building centre Vizag.
NUCLEAR SUBMARINE CLUB :
America is the most powerful in nuclear submarine club . It has 72 N Sub where as Russia over 40 , China with 10 . France and UK have around 8-12 nuclear sub marines..
(With Inputs from Times of India)