Garden Reach Shipbuilders and Engineers (GRSE) Ltd  on Thursday launched  the fourth Anti-Submarine Warfare Shallow Water Craft (ASW SWC) barely five months after the launch of the third ship. GRSE is building eight ASW SWCs for the Indian Navy.
The warship , named INS Amini , was launched by  Manju Naithani, wife of Vice Admiral Sandeep Naithani who is Chief of Materiel, Indian Navy. Vice Admiral Naithani was the Chief Guest at the event.
Chairman and Managing Director of GRSE Cmde (Retired) P R Hari ,  Vice Admiral Kiran K Deshmukh and other Senior officials of the Indian Navy, GRSE were present at the occasion.
The launch is an important event in any warship's build-cycle. This is when the warship tastes water for the first time under her keel. This is also the day when the warship gets its name and the crest which symbolizes her. The ASW SWC launched today has been named 'INS Amini' after an oval-shaped island in the Lakshadweep archipelago.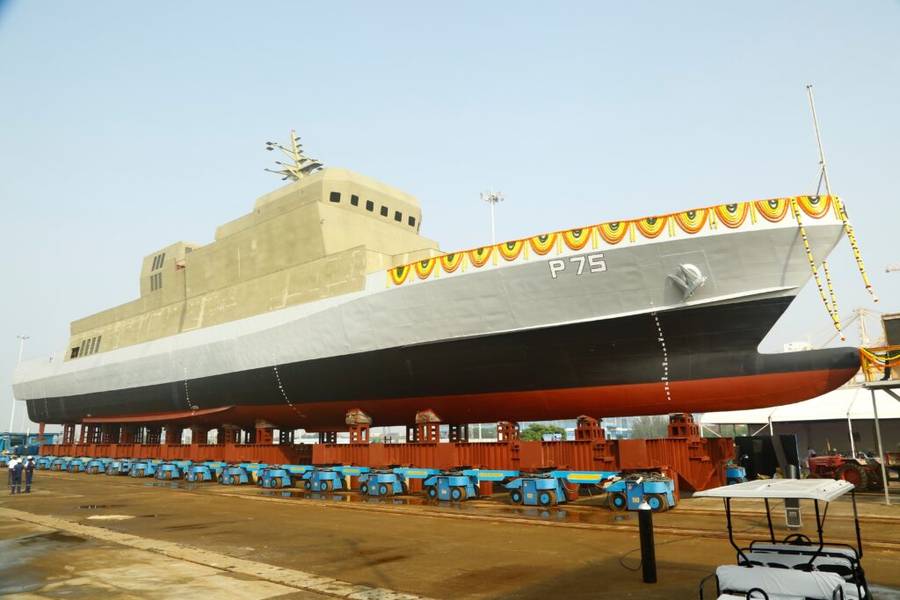 According to a press release INS Amini is the reincarnation of another warship of the same name that joined the Indian Navy on December 12, 1974. Built at a shipyard in the erstwhile Soviet Union, it was an Anti-Submarine Corvette and participated in several operations before being decommissioned on September 16, 2002.
ASW SWCs are considered extremely important for any Navy as they require less draft and can operate close to the coast, searching for underwater threats and neutralizing enemy assets such as submarines and mines. Equipped with advanced sonar and armed with latest weaponry such as lightweight torpedoes and ASW rockets, these warships will pack a tremendous punch, once they are commissioned into the Indian Navy.
Of the 40 warships on order from the Indian Navy at various shipyards in the country, GRSE is building 19 warships. These include three Advanced Frigates under the Navy's ambitious Project 17A, four Survey Vessels (Large), eight ASWSWCs and four Next Generation Offshore Patrol Vessels (NGOPVs). Of the 19 warships, ten (apart from the one launched during the day) have already been launched and are undergoing various stages of outfitting.