India successfully test-fired Agni-5 from the Abdul Kalam Wheeler Island off the Odisha coast on Sunday morning at 9.50am. Kudos to Defence Research and Development Organisation (DRDO) team which worked round the clock to ensure that the trial of indigenenously developed nuclear capable Long Range Ballistic Missile, Agni 5 is conducted successfully.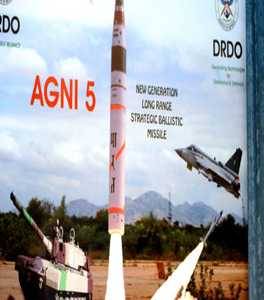 The state-of-the-art surface-to-surface missile has a strike range of 5,000 kilometres. Also it can carry a nuclear warhead of more than one tonne. The technology is quite advance in terms of navigation, guidance, warhead and engine.  Agni -5 is about 17 metres long, 2 metres wide and has a launch weight of around 50 tonnes.
In fact, this is the sixth developmental and third trial of the long range missile. According to available information, few more trials are likely to take place before it is inducted into the services. Once that is done, India will then join the super exclusive club of US, Russia, China, France and the UK.