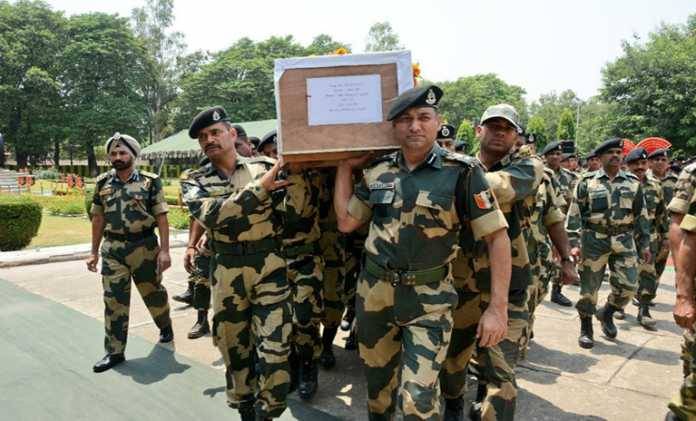 Jammu: Two Border Security Forces soldiers were martyred and seven people injured on Sunday in an unprovoked firing from Pakistani on the international border in Jammu and Kashmir. This came just five days after the Director Generals Military Operations( DGMOs) of India and Pakistan agreed to implement 2003 ceasefire back earnestly in a bid to ensure peace on both the International Border and the Line of Control in Jammu and Kashmir.
Assistant Sub-Inspector S N Yadav and Constable Vijay Kumar Pandey who belong to BSF , lost their lives in the violation of the 2003 truce in Akhnoor sector's Pargwal sub-sector. There are 10 BSF outposts and 30 villages in the area affected by the violation which compelled the authorities to evacuate hundreds of villagers.
In a tweet, the BSF said that Director General and the BSF salutes to supreme sacrifice of ASI Yadav and Constable Pandey and offered condolences to their respective families. The bravehearts attained martyrdom facing and retaliating unprovoked fire from Pakistan on Jammu IB in Sunderbani, the tweet said.
According to available information, Pakistani shells landed deep inside the Indian territory in Pargwal and Kanachak sub-sectors. Police employed bulletproof vehicles at many places to evacuate civilians to safer places as panic spread. The Pakistani firing and shelling began around 3.30 a.m. After the Indian troops retaliated, firing exchanges continued till 10 a.m.
BSF is India's first line of defence which is safeguarding India-Pakistan and India-Bangladesh borders since 1965.