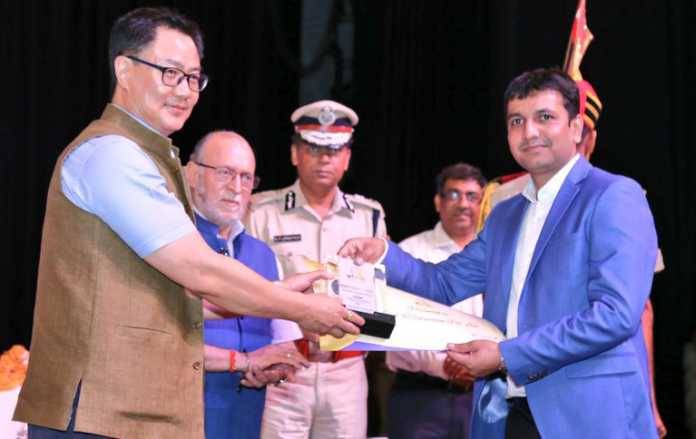 Seven Hundred candidates have been offered letters of intent for employment during a Job Fair organised by the Delhi Police here in New Delhi, on Monday. Event witnessed significant numbers of employers, who interviewed around 1300 youth. Job Fair was a part of the First anniversary celebration of the 'Yuva'- A Delhi Police Initiative, to equip vulnerable youth especially from the underprivileged sections and economically backward sections of the society.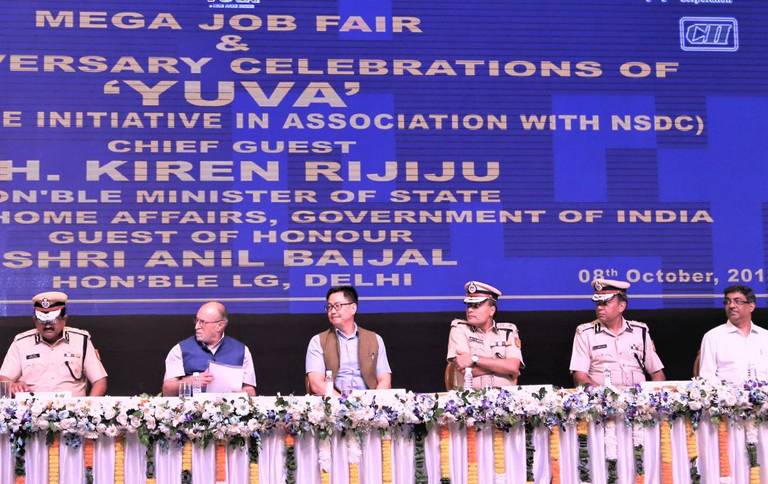 According to a press release the training centres were initially set up in 8 Police stations in first phase , which is being increased to total 20 in phase second. 16 Centres are already operational. A variety of employment related skills ranging from front desk management to mobile repairing, retails, beauty therapy, hospitality management etc are being provided to the Yuva trainees by the Skill Training partners. With this initiative, the Delhi Police hopes that the youth of the city will be able to engage in constructive activities, thereby contributing positively to the human capital of the country, thereby increasing overallsecurity .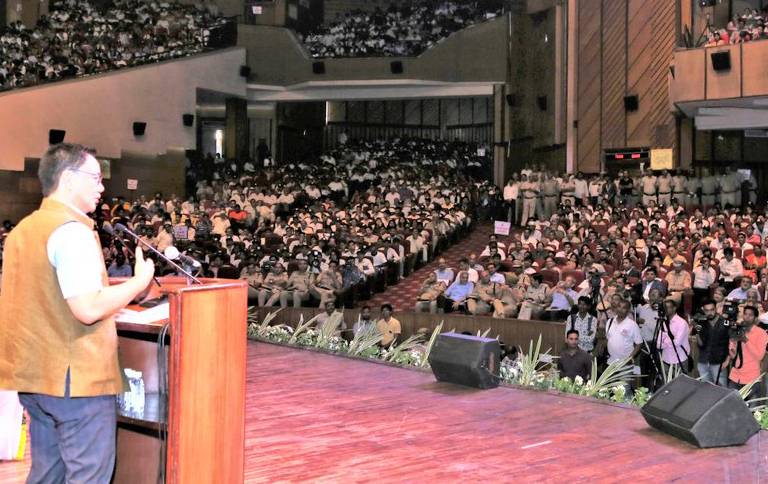 The initiative leverages the opportunities of Skill development available under Pradhan mantri Kaushal Vikas Yojana (PMKVY) scheme of Ministry of Skill Development.
The Yuva initiative was launched on 29th August, 2017. The Ministry of Skill Development gave a target of 3000 for skill development in 2017-18 to Delhi Police, which has been increased to 5000 this financial year.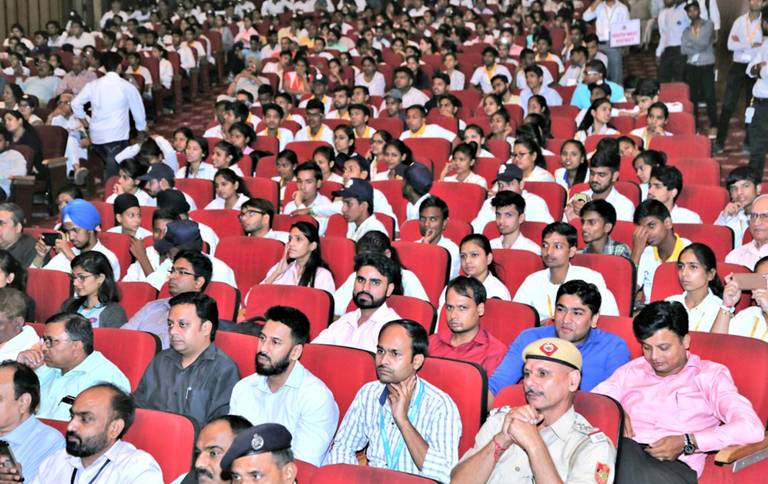 Kiren Rijiju, Minister of State Home was the chief guest and Anil Baijal, Lieutenant Governor of Delhi was the Guest of honor on this occasion. Speaking on the occasion ,Kiren Rijiju said,"The skill development of the vulnerable youth at this large scale by Delhi Police, which has never been done previously by any State police in the country, sets an example for other States' Police forces to emulate and to give opportunity to the vulnerable sections of society. This initiative will give not only job, but will provide a new lease of life to the youth, who are either crime victims or in conflict with law, especially those from underprivileged sections of the society.
By employing these school dropouts, juvenile offenders and victims of crime, police is not only making them employable, but also shaping their lives." He added that he feels if we are not skilling India, we are killing India.
While appreciating the efforts of the Delhi Police, Lieutenant Governor Anil Baijal said," Crime prevention has always been the focus area. If we can bring in crime prevention before policing, we should target vulnerable youth to come forward and contribute to society. It would also give outreach to police and today, I think these trained and employed youth are 3000 Brand Ambassadors of Delhi Police."
Police Commissioner Amulya Patnaik said," We have made a long & huge progress since the launch of YUVA Scheme by Hon'ble Home Minister, who has provided continuous patronage to this project. It was observed that most of youngsters involved in street crime are first timers and if they can be taken into YUVA fold, they can withdraw from crime and can also join the mainstream. .
Chief Guest presented mementos & certificates to Skill Development partners, in acknowledgement of their outstanding contribution to the cause. The Booklet on YUVA Scheme, YUVA Website and Radio Jingles were also launched to mark the occasion.
Sanjay Baniwal, DGP Chandigarh Police, Sandeep Goel, Special Commissioner , Law &Order (North), RP Upadhyaya, Special Commissioner L&O (South), Devesh Shrivastva Joint.Commissioner ,Sothern Range and Manish Kumar , Nodal Officer YUVA, MD & CEO, National Skill Development Corporation and other stakeholders were also present on the occasion.