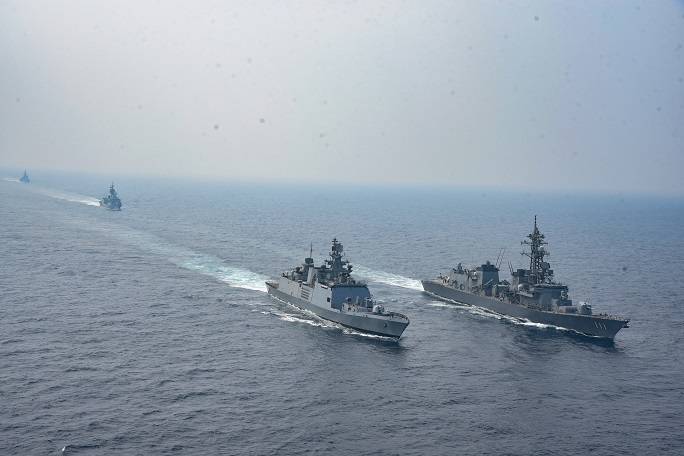 Why do we celebrate December 4 as Navy Day? There is a story behind it. It is done in commemoration of Indian Navy's attack on Karachi harbour during the 1971 Indo-Pak war. In fact, Pakistan had attacked India's airfields along the border and then began  the Indo-Pakistani war officially.On December 4,  Indian Navy had started Operation Trident and successfully sank four Pakistani vessels including PNS Khaibar, killing hundreds of Pakistani Navy personnel and sailors. Martyrs of the Indo-Pakistan War of 1971 are also remembered on this day.
Why Operation Trident?
Operation Trident was one of the most successful operation in modern naval history. The strike group had been dispatched for Pakistan from Okha port. the Indian task group had moved 180 nmi (330 km; 210 mi) from its position towards the south of Karachi. Soon Pakistani targets, identified as warships, were detected 70 nmi to the northwest and northeast of the Indian warships. After planning, indian navy personnel used anti-ship missiles on Pakistani personnel, inflicting heavy damage to Pakistan vessles and facilities. Khaiber challenger and Muhafiz were among them.500 Pakistani soldiers were also killed in that operation. Indian Navy suffered no losses while Pakistan lost a minesweeper, a destroyer, a cargo vessel carrying ammunition and fuel storage tanks in Karachi, Another destroyer was also damaged.  Indian Navy had used INS Nirgha, INS Nipat and INS Veer were involved.
After that, INS Rajput and INS Vikrant had used bombs to destroy Koast Bazar and Chat village. Karachi oil depot caught fire due to bombing which took almost a  week to douse. This was the biggest loss for Pakistan and major victory for India. That is why December 4 is celebrated as Navy Day.
Retaliation by Pakistan
In retaliation, Pakistan's navy had sunk INS khukri on December 9.There were 18 officers and 176 sailors who lost in the sinking. The captain, Mahendra Nath Mulla was among the casualities. It  is said that captain Mulla went down with a vessel. He was posthumously awarded India's second highest military  honour, the  Maha Vir Chakra.
President, PM lauded Navy
On Friday as India celebrated Navy Day, President Ram Nath Kovind, Prime Minister Narendra Modi and other leaders lauded the Navy. Prime Minister Narendra Modi said that Navy fearlessly protects the country's coasts and also renders humanitarian assistance in times of need. "Navy Day greetings to all our valorous navy personnel and their families. The Indian navy fearlessly protects our coasts and also renders humanitarian assistance in times of need. We also remember India's rich maritime tradition over centuries," PM Modi said in a tweet.