Fatima Tu Zohra, a 10 year old student of Army Goodwill School of Bandipora district in Jammu and Kashmir, is one of the  shining stars in the world of chess. Fatima has defeated many super fine players (under-11 category ) in chess matches played  during state level competition in the union territory of Jammu and Kashmir  recently. Fatima won Gold medal in this competition which was organized by the All Jammu and Kashmir Chess Association at the Indoor Stadium of the capital Srinagar.
Not only Fatima , the  same school has given some more little stars. Seven year old Mohammad Sayib Wani , a student of 3rd standard, has also gained 3rd position in the same competition organised on 30th July 2023.
Tajamul Islam of the same Army Goodwill school got 2nd position in under 09 boys category in the Provisional level Junior and Sub Junior chess tournament  held at indoor stadium Srinagar in October 2022. .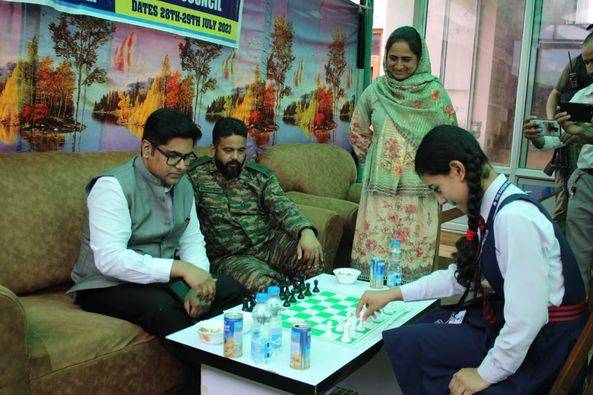 School Principal Shabnam Kausar is not only very happy but also excited about the achievements of these students of her school. She said that this will also increase the interest of other students in the game of chess. Coincidentally Shabnam Kausar is also the lucky mother of Fatima.
Fatima Tu Zohra –  a girl with  extraordinary skills :
Born on 1st August 2013 , Fatima Tu Zohra of Boniyar, Aloosa Bandipora started showing her interest in Chess in 2021.  The school gave her  support and even provided her a coach who trained her and made her able to participate in different championships. She started her career in Chess in 2022 and in a short period of time she got huge success.  Fatima played her first District championship in June 2022 and was  selected for a state level championship which was held in September 2022 . In the state level championship she got first position and got selected for the National championship that was held in Jan 2023.
In Feb 2023, Fatima participated in an international FIDE rating chess tournament and got first position.Then again in the same rating tournament held in June 2023 she got 3rd Position. Thus she proved her credibility by claiming top positions in both the FIDE rating tournaments .
Fatima  proved her mettle by winning the UT Level tournament under 11 age category. She defeated  some of the best players  and claimed top honour in her category. This achievement made her eligible for playing in the National level Chess tournament in near future.
Interestingly, Fatima also topped the Under-13 category of the 6th District Bandipora Chess Championship, which concluded on 28 July 2023 at S K Stadium , Bandipora.
" She has a promising Chess career and is keeping her same momentum. I believe she will crack the top Chess circuit of not only Jammu and Kashmir but will be seen in top ranking tournaments in our country,"  claimed her coach. She is the best player of the U-11 category presently and is the pride of Bandipora District.
Mohammad Sayib  Wani :
Three year younger to Fatima , Mohammad Sayib Wani shares the same date and month of birth with Fatima . Born on 1st August 2016 in Ajar Bandipora, this 7 year old boy studies in class 3rd.
Principal Shabnam Kausar said that Mohammad Sayib showed interest in Chess in the month of July 2023 and surprised everyone while playing first district level championship. He scored 3rd Position in 6th District Bandipora Chess Championship held at SK STADIUM BANDIPORA which made him eligible for state level chess championship. Even in this competition he got 3rd Position.
Mohammad Sayib  gives full credit to the school authorities who believed in him and made him participate in his first championship. His parents are now very happy and are ready to support him in the near future.
Principal Shabnam Kausar said  that we are feeling very happy with the success of Fatima and Mohammad Sahib. Now more students are interested  in this game and in view of this, we are thinking of increasing some new facilities to promote chess in the school. Apart from this, the idea is also going on to arrange better coaching for Fatima and Sayib.
Army Goodwill School :
In view of the negative impact on the education of school children in the terrorism  ridden Jammu and Kashmir and the lack of education facilities in the remote areas, the Indian Army started the scheme to establish Goodwill Schools in 1990. This was  a nice initiative towards education and infrastructural improvement for such places which falls into conflict zone.
Till now there are 43 such schools in Jammu and Kashmir which are being run under this scheme. Under this scheme some old schools have been given a new look by improving them, facilities and education level have been increased in many by improving infrastructure. Most of the schools are taught by local teachers, but an army officer is posted to supervise the schools. The Army's Education Corps also plays a role in this.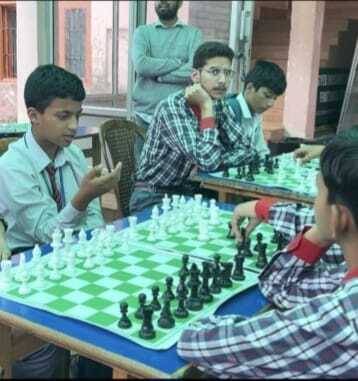 Becoming popular : 
Army Goodwill Schools are becoming popular in Jammu and Kashmir. There is neither a high fee in these, but the children of many needy and poor families also get exemption. Along with this, books, notebooks etc. are also provided to them. According to the available data, about 15000 children are getting education in Army Goodwill Schools in J&K. Out of these 1500 are also being given scholarships. Due to all these reasons, the popularity of these schools is increasing. There is also a demand to open more such schools.