A memorial has been built in honor of Indian soldiers who lost their lives during the Italian campaign in World War II , in Italy . The memorial has been named the V C Yeshwant Ghadge Memorial. A special post card has also been issued in the memory of Indian soldier Yashwant Ghadge who sacrificed his life while showing bravery in this war. Yashwant Ghadge was also awarded the Victoria Cross.
The monument was unveiled on 22 July 2023 by Dr. Neena Malhotra, Ambassador of India to Italy, in the Montone commune  in the province of Perugia, Italy. The Mayor of Montone, Indian and Italian military officers, senior officers from both the countries and military historians were also present on the occasion. The Italy campaign is also called the fight for independence of Italy. This monument in Montone has been built like a sundial.
"The memorial marked the beginning of a special relationship between India and Italy forged in the battlefields of Montone," tweeted the Indian embassy in Italy.
A plaque of the Indian Army has also been installed on this memorial built in honor of Indian soldiers in Monotone, Italy. On the monument is written 'Omnes Sub Eodem Sole' which means 'we all live under one sun'.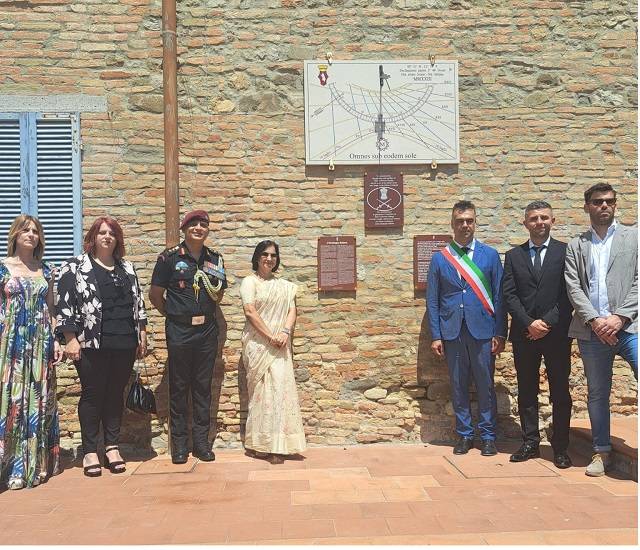 Bravery of Yashwant Ghadge:
Yashwant Ghadge was in the 5 Mahratta light infantry of the British Indian Army. Due to his heroic deed, he was promoted from Sepoy to Naik  in 1941. On 10 July 1944, Naik Yashwant Ghadge was commanding a rifle section in the Upper Tiber Valley of Italy when enemy soldiers opened heavy machine gun fire at close range. Except Yashwant, all the soldiers were killed or injured in this attack.
Nayak Yashwant Ghadge , without any hesitation and without losing any time , ran towards the machine gun position. First he hurled a hand grenade there which knocked out the machine gun and its firer. Yashwant Ghadge shot another soldier of that party. Finally, when the machine gun ran out of ammunition and did not have time to load a new magazine, he also killed two more soldiers remaining in a hand-to-hand fight. Meanwhile, a hidden sniper of the enemy fired at them from a distance and Yashwant Ghadge was killed.
Yashwant Ghadge belonged to  Mangaon in Raigad district of Maharashtra. His statue is also installed there in Tehsil.