CBI Director Rishi Kumar Shukla awarded 14 Investigating Officers, 6 law officers, 46 executive & ministerial staff and 2 technical officers with the Director CBI's Commendation Certificate and cash rewards. Officers were honoured on the occasion of 57th CBI Day at investigating agency's Headquarters in New Delhi on Monday.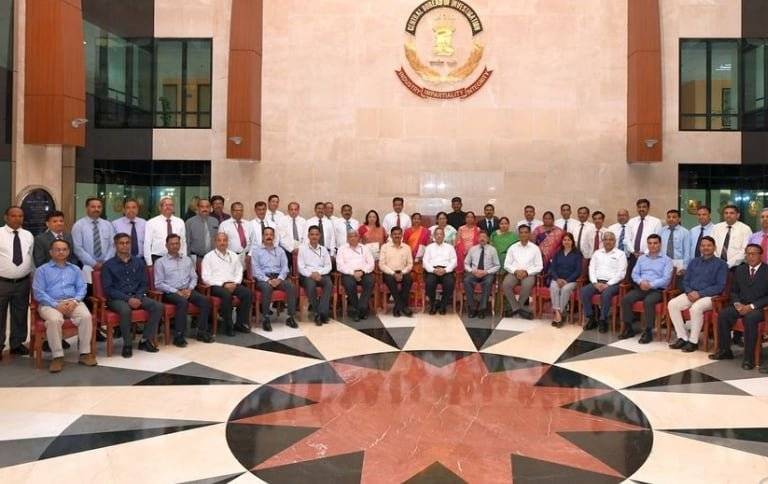 While addressing the gathering on this occasion CBI Director said that over the years, the Central Bureau of Investigation has emerged as a premier investigating agency of the country. The CBI enjoys the trust of the people, Parliament, Judiciary and the Government. Whenever there is a major offence or a credible investigation is required, there is always a demand for a CBI investigation. Over the years the number of cases referred to by the Constitutional Courts to CBI have been increasing, Shri Shukla observed.
Shri Shukla also invoked the motto of the organization – Industry, Impartiality and Integrity and reiterated that CBI has been successful in realizing its mission of upholding the Constitution of India and the Law of the Land, through in-depth investigation and successful prosecution of offences. It has also provided leadership and direction to Police Forces and acted as the Nodal Agency for enhancing inter-state and international co-operation in law enforcement.
Director CBI, further referred to the multi-disciplinary character of the organization and said, the CBI has evolved from an anti-corruption agency into a multi-faceted, multi-disciplinary Central Police law enforcement agency with capability, credibility and legal mandate to investigate and prosecute offences throughout the country. He also mentioned that CBI has consistently and continuously equipped itself to be prepared with the evolving nature of crime and that the agency has been made the nodal agency in many areas.
Shri Shukla also emphasized the importance of grievance redressal and referred to the Open Door Policy for all officials of the organization in this regard. He also said that the organization will be taking care of the infrastructural needs of the workforce.
After the celebration of the CBI Day, all officers and employees of CBI joined Bada Khana in true traditions of the organization.
During 2018, the highlights of CBI's achievements were: 899 Regular Cases/Preliminary Enquiries registered, 209 of which were taken up on directions of Constitutional Courts; 156 traps were also laid for detection of bribery; 211 cases pertaining to bank frauds were also registered; 544 cases ended in conviction of 1468 accused persons. Convictions were achieved in many important and sensitive cases.
CBI successfully used the technology of Percentage Matching of DNA and Lineage Matching for the first time in India, while investigating the case of rape and murder of a minor girl in Shimla .