Brass Band for Central Reserve Police Force (CRPF) and LED screen van are playing important role in a voter awareness campaign being organized in Jharkhand State. Videos of Voter awareness through LED screen and display of CRPF Brass Band at prominent places are attracting and inspiring voters to cast their votes in ongoing Loksabha elections in India.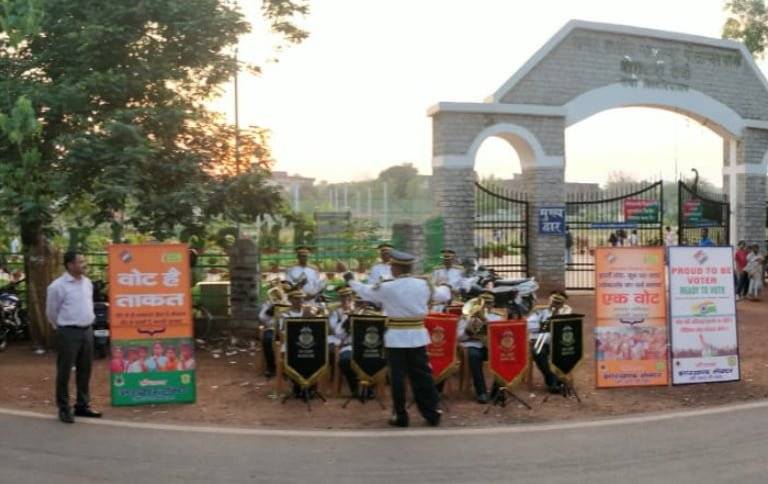 According to Sanjay Anand Lathkar , IGP of CRPF's Jharkhand sector , under the SVEEP activities, efforts are being made for spreading awareness to exercise constitutional rights by all eligible Voters with focus on young voters whose names have not been included in electoral roll. First time Voters are being inspired for voting. Besides above, people are being educated for voting through Electronic Voting Machine( EVM ).
Campaign with CRPF Brass Band and LED screen van has been organized on 22nd April at Oxygen park and Kacheri Chowk as well as at Church Complex (Sainik Market) and Ranchi Railway Station on Wednesday. Programme will be organized on April 28 th at Nucleus Mall and Firayalal Chowk where as on 30 th at Chandini Chowk and Suchna Bhavan. This will continue further with a performance at Birsa Chowk and State Assembly on May 2nd.
According to a press release voter awareness campaign is also being organized at around 149 different CRPF locations across the State through Posters, Banners, Rallies etc. with a objective to encourage maximum people to cast their Votes. Service Voters are also being encouraged to cast their votes. Phase wise monitoring is being done at Sector level. Efforts of CRPF under SVEEP are appreciated by the election machinery as well.