One of the senior most IAF officer Sanjay Chauhan lost his life after his plane, a Jaguar crashed in the Mundra taluk of the Kutch region on Tuesday around 10.30am. Fifty year old Air Commodore Chauhan was air officer commanding was on a routine training mission.The plane's debris was strewn far and wide on the outskirts of the Bareja village, said locals.His sudden death has sent shock waves among the air force personnel about the safety and durability of fighter jets.
Chauhan- an experienced pilot 
Chauhan was a decorated and an experienced fighter pilot. A recipient of the Vayu Sena Medal, Chauhan was the Air Officer Commanding of Jamnagar Air Force Station. He had a long experience of service flying. In 1989, he was commissioned in fighter stream of the IAF. He was a Qualified Flying Instructor (QFI) and Experimental Test Pilot with over 3,800 hours of service flying.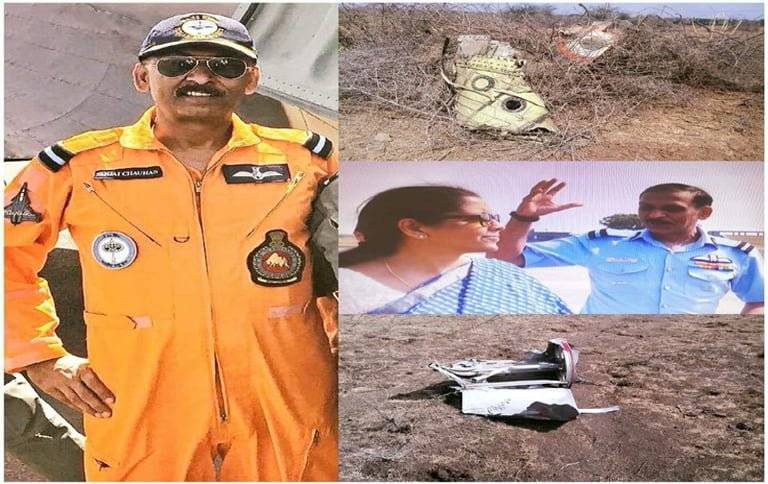 Chauhan had also held several important posts such as the Commanding Officer of the Test Pilots' School. He also commanded a fighter squadron of the IAF. He was awarded the Vayu Sena Medal in 2010. He was an ace fighter pilot with a vast flying experience and had flown 17 types of aircraft of the IAF including Jaguar, Mig-21, Hunter, HPT-32, Iskara, Kiran, Avro-748, AN-32 and Boeing 737.
Tweets
In a tweet, Information and Broadcasting minister and Colonel Rajyavardhan Rathore recalled his meeting with Air Commodore Chauhan. In his tweet, he said that he was saddened with the loss of Chauhan in a Jaguar air crash. Hereca, the minister said that he remembered Chauhan from the training days at National Defence Academy.
Major Dr. Surendra Poonia, VSM in his tweet described Air Commodore Chauhan as a real hero. In his tweet Major Poonia said that commodore Chauhan died didn't eject because aircraft was over the village and could have taken many lives ,so he went down with his plane. He praised Commodore Chauhan for his unconditional services for motherland.
In his tweet, Member of Parliament Rajeev Chandrashekhar praised Air Commodore Chauhan for his experience in flying. He posted his picture with Chandrashekhar and his father.
Investigation into the Jaguar accident
Meanwhile, a court of inquiry has been ordered to investigate the cause of the accident.Lt Colonel Manish Ojha has ordered for inquiry. Defence spokesperson, Gujarat, Ojha said that the plane was flying around 10.30am. Commodore Chauhan was flying on routine basis. Before the crash, there were reports of missing fighter plane before it came crushing down.
Information on Jaguar
The Jaguar deep penetration strike aircraft were built by HAL under license, based on the SEPECAT Jaguar Anglo-French attack jet. It is a nuclear-capable strike aircraft.