Mizoram Police team is declared winner where as Central Reserve Police Force is the runner up of the 11th All India Police Badminton Championship, concluded at Indira Gandhi stadium complex here in New Delhi. Last time Champion CRPF was the host of this 5 day event in which a total of 399 players of 36 teams participated. Minister of state for Youth Affairs , Sports & Information and Broadcasting Col. Rajyavardhan Singh Rathore distributed the prizes to the medal winners.
Col Rajyavardhan Rathore , while addressing the gathering of sports persons and officers of different forces at the concluding ceremony , said that a player is one who never acknowledges defeat. It is the very nature of a player to accept challenges. Col Rajyavardhan Singh Rathore, appreciated the fact that the police forces across the country are represented in this sporting event. He observed that any event including sporting event organised by the police forces becomes special.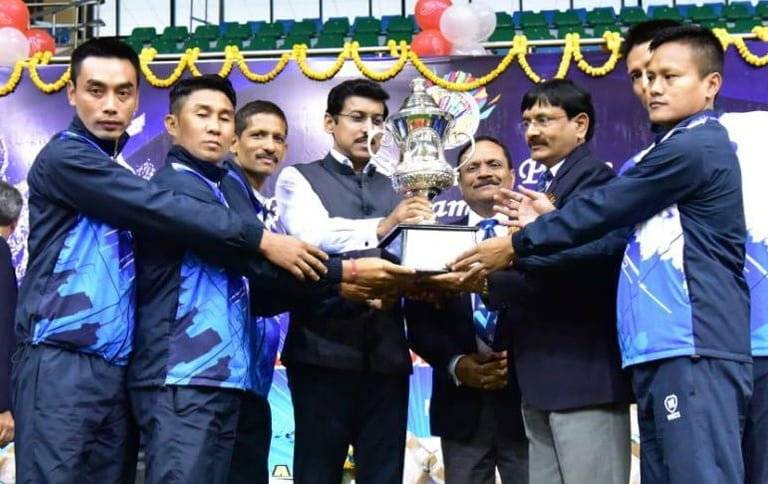 Congratulating the winners in various categories, Col Rajyavardhan Singh Rathore emphasised that Sports promote physical fitness and espirit de corps amongst the ranks and file, which is vital for the uniformed personnel. He said the perception about Games and sports is undergoing massive change, and it has been seen that those who play blossom in their lives and stay happy. He added that he feels a sense of belongingness with the uniformed personnel. Col Rathore asked those who could not win the model, to not feel disappointed, and work hard for victories in the future. He assured full support of the Sports Ministry in all activities relating to games.
Welcoming the guests and participants , Director General of CRPF Rajeev Rai Bhatnagar expressed his pleasure on the success of the sports meet which witnessed 16 events and 387 matches including Singles/Doubles/Mixed Double etc. Chief Guest Col Rajyavardhan Rathore gave away trophies to the winner and runners up teams. He also felicitated some of the illustrious sp norts persons of CRPF who have excelled in international sporting event.
The Meet had been inaugurated on the 22nd September 2018 in which, Rahul Bhatnagar, Sports Secretary, Govt. of India was the chief guest.