Director of Central Bureau of Investigation, Alok Kumar Verma felicitated sailing star Harshita Tomar here in CBI Headquarters. Harshita has won the Bronze Medal in 4.7 Laser event of Sailing competition at the 18th Asian Games, 2018 at Palembang, Jakarta (Indonesia).
Harshita is very much part of CBI family as her mother Rani Tomar is working with this organization and she is posted at Anti Corruption Branch, CBI, Bhopal. Kumari Harshita Tomar, a student of class tenth was invited here. She along with her mother Rani and father Devendra Singh Tomar met Director Alok Verma in his office. Mr Verma felicitated Harshita and presented Momento and gifts. Extending best wishes to Harshita and her family, CBI Director assured her of all possible assistance from CBI in her future endeavours.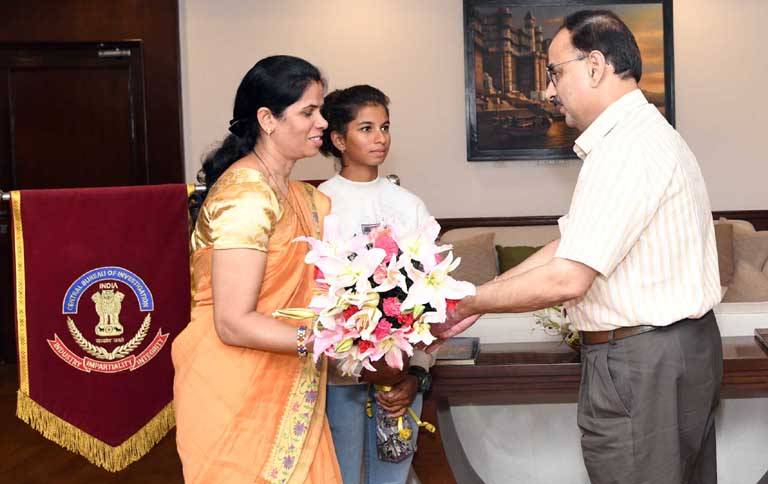 Mr. Verma congratulated the young Harshita for her wonderful achievement at such a tender age. Verma said that she competed against men and women of all age groups in the Asian Games and this makes her victory all the more unique. Director Verma also congratulated Rani Tomar, for her wonderful parenting.
Harshita belongs to Madhya Pradesh and studies in 10th class at Kamla Nehru Higher Secondary School of Kotra Sultanabad in capital city Bhopal . She started training in Sailing in the year 2012 at T.T. Nagar Stadium, Bhopal. She has won 19 Gold Medal, 03 Silver Medal & 05 Bronze Medal at National Level Competitions.
She was given Eklavya Award in the year 2017 by Government of Madhya Pradesh. Her major achievements at State, National and International Level Championship includes Gold Medal in India International, Regatta, 2015 at Chennai, Gold Medal in Multi Sailing Championship, 2016 at Hyderabad, Silver Medal Optimist Inland Open Sailing Championship, 2015 at Pune, Bronze Medal in IODA Asian Optimist Sailing Championship, 2015 at Doha (Qatar). She is the first Indian to win a medal at IODA Championship.
Few more acheivements includes Best Ladies Sailor by Yachting Association of India -2016, Best Yatchman of the year by Yachting Association of India -2017. She got world's top 20 ranking at World Championship in 2018 at Gdynia (Poland). Kumari Harshita also won 2017 ASF Cup – Youth Cup finals – Gold in both open & girls category at Dubai.