A huge crowd emerged when a group of 51 officers and jawans of Indian Air Force brought the body of Pankaj Sangwan, wrapped in Tricolor to Kohla village of district Sonipat in Haryana. The whole village grieved for the loss of the young soldier.
With tears in their eyes and slogans of 'long live Pankaj' on their tongues people from several neighboring villages came to give a last farewell to their hero. Alas, Airman Pankaj Sangwan's funeral was carried out with all the state and military honor.
Pankaj Sangwan, who was posted as Lead Aircraft Man (LAC) in the Indian Air Force, was among the 13 people aboard the Indian Air Force's AN32 transport aircraft, which took off from the IAFstation in Jorhat, Assam to land at Mechuka airstrip of Arunachal Pradesh, went missing on 3 June.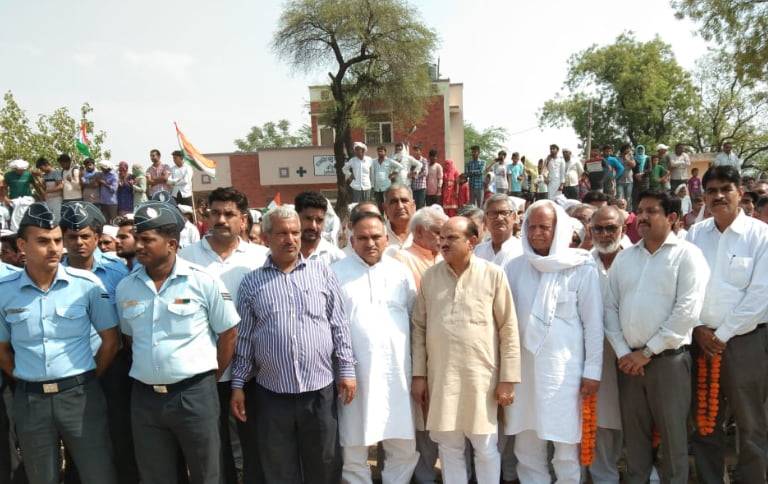 It was only after 8 days (June 11) when the mortal remains of 13 IAF personnel was recovered after the aircraft wreckage was found on a mountain slope in Arunachal Pradesh but due to thick forests surrounding the inaccessible mountains and bad weather conditions the mortal remains could only be brought to Johrat. Today (June 23). Special arrangements were made to bring all the mortal remains to their native places for funeral.
In the afternoon, with the body, IAF officials also handed over a Medal, a Cap and a Photograph of Pankaj to the family which was a poignant sight. Nobody could hold the tears in their eyes. Airmen Saluted their comrade by firing gunshots in the air with their rifles with all Military rituals and customs. Pankaj's Mother Sunita and Father Dharamvir sprinkled 'gangajal' on the body with tears in their eyes which was followed by setting of fire to the funeral pyre by Pankaj's cousin.
Grandfather Ram Kumar was somehow trying to endure the pain of tragic death of young grandson, Ram kumar expressed his gratitude to the Air force officials and soldiers who, despite every challenge that came along the way, brought the mortal remains of Pankaj to his birth place.
Airman Pankaj joined the Indian Air Force on 1 July 2015. Sonepat MP Ramesh Chandra Kaushik paid tribute by saying that Pankaj will always be alive in everybody's hearts. Rajiv Jain, the Media Advisor of Haryana Chief Minister Manohar Lal Khattar also paid tribute.