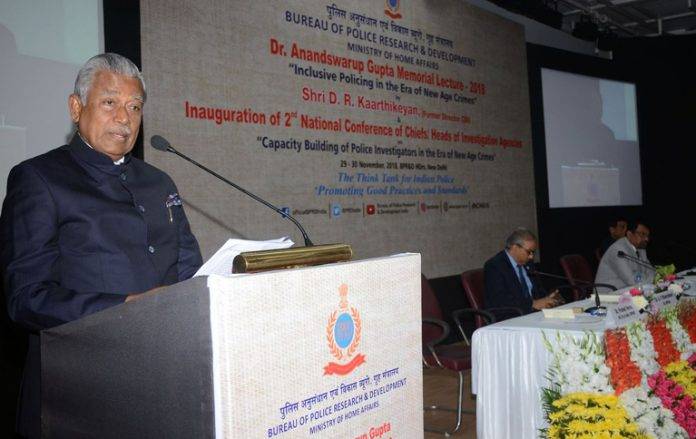 Former Director of Central Bureau of Investigation (CBI) , D R Karthikeyan stressed upon the use of technology for evidence collection and better coordination between police and prosecution.
Shri Karthikeyan was addressing the gathering of police officers on the occasion of Anandswarup Gupta Memorial Lecture on ' Inclusive Policing in the era of New Age Crimes'. Lecture was organized by the Bureau of Police Research and Development in New Delhi.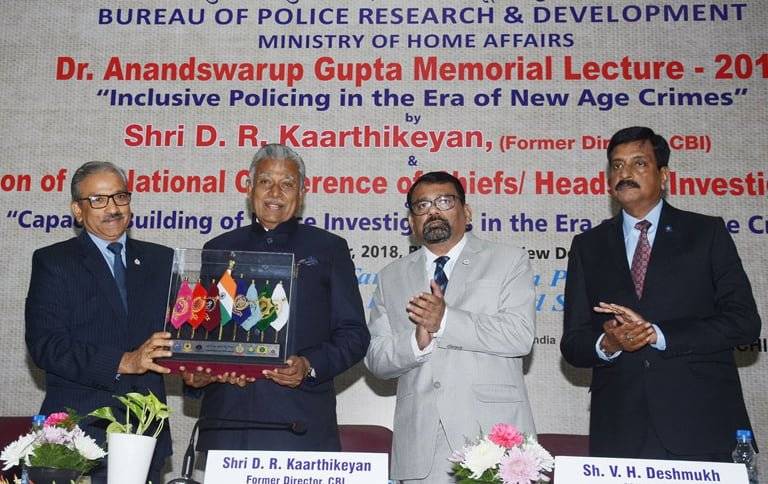 Former CBI Director said that police forces need to enhance capacity to handle crime investigation effectively. Shri Karthikeyan was of the view that technology needs to be introduced in Police Investigation procedures and improve the quality of evidence. He also stressed on the importance of understanding of the court procedure and to have regular interaction with prosecution and judicial officers. Shri Karthikeyan said that this would go a long way in improving conviction rates.
Dr. Anandswarup Gupta was the founder Director of the Bureau of Police Research and Development (BPR&D) which was set up in the year 1970. In 2003, the Bureau instituted the Dr. Anandswarup Gupta memorial lecture series.
BPR&D is also organizing 2nd biennial National Conference of Heads of Investigating Agencies on "Capacity Building of Police Investigators in the Era of New Age Crimes".
Director General of BPR&D, AP Maheshwari, in his welcome address stressed upon conducting such conference on regular basis. Family members of the Dr. Anandswarup Gupta were also present on this occasion and were felicitated by Shri Maheshwari. The objective of the conference is to deliberate on various legal aspects, procedures and use of technology in investigation to improve its quality and secure effective prosecution.
The heads of State Crime Branches and other state police investigation agencies like Economic Offence Wing (EOW), Special Task Force(STF) are participating along with Central Investigation Agencies like Central Bureau of Investigation(CBI) , National Investigation Agency (NIA), Enforcement Directorate (ED), Financial Intelligence Unit (FIU), Serious Fraud Investigation Office (SFIO) and Wildlife Crime Control Bureau (WCCB).
According to a press release this year, 9 business sessions are being organised in collaboration with NIA, NCB, ED, FIU, WCCB, Academia, Corporate Sector, and cyber and forensic experts along with practitioner police officers from States.