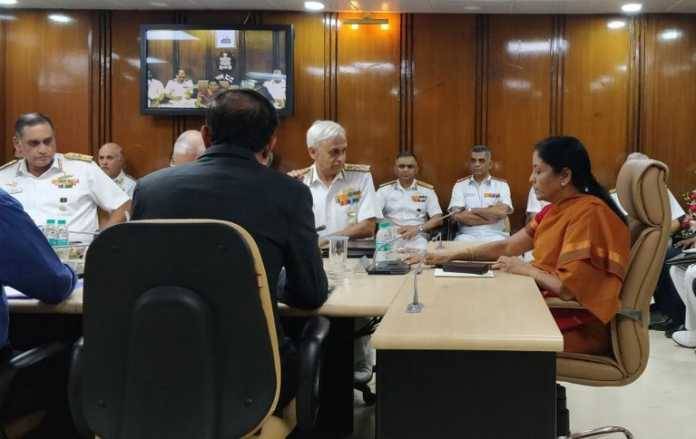 Taking note of the critical capability shortfalls that the Navy is facing today in ship-borne multi-role helicopters, reconnaissance aircraft, unmanned platforms, conventional submarines and surface ships which need urgent redressal to maintain the combat edge of the Navy, Defence Minister Nirmala Sitharaman assured the Commanders that these issues are being given due impetus at the MoD and measures are being put in place to mitigate these shortcomings at the earliest.
Smt Nirmala Sitharaman was inaugurating the first edition of the bi-annual Naval Commanders' Conference, in New Delhi today. Addressing Senior Leadership of the Navy, She commended the men and women of Indian Navy for their professionalism and dedication in performing the duties of safeguarding the maritime interest of the nation.
The Defence Minister expressed satisfaction with which the Indian Navy has continued to maintain a high operational tempo through regular deployment of ships, submarines and aircraft in the Areas Of Responsibility (AOR). Smt. Sitharaman said, "I am confident that Navy's Maritime Domain Awareness in our Areas of Interests will enable it to respond effectively to the various contingencies, such as Search and Rescue, Humanitarian Assistance and Disaster Relief (HADR) and anti-piracy. I am glad that the efforts have already started showing results, with the Indian Navy responding proactively to numerous crisis situations around the Indian Ocean Region (IOR) in the last few months; including the heavy rains and flooding in Sri Lanka and post Cyclone 'Mora' in Bangladesh and Myanmar. I also compliment the Navy for the efficient HADR operations undertaken in the wake of Cyclone 'Ockhi' in November last year."
The Indian Navy, in addition to being the primary instrument and manifestation of the nation's maritime power, has also established itself as a potential tool for military diplomacy, said the Defence Minister . She further added that the Navy has been playing an important role in furthering our national and foreign policy objectives through active cooperation and engagement with not just IOR littorals, but maritime nations across the globe.
Complimenting the Navy, Smt Sitharaman said that today India and the Indian Navy have emerged as the first port of call and a dependable partner for IOR littoral navies, to address their maritime security needs.
While addressing the Commanders, Smt Nirmala Sitharaman said, "I firmly believe that as a nation we cannot be truly self-reliant until we are able to develop our own weapons and sensors. Indian Navy's active role in engaging with a wide range of R&D and production agencies – Government, Semi¬ Governmentand private is indicative of its commitment. Towards this endeavour, the Combat Management System for the Indigenous Aircraft Carrier being developed with a private vendor (M/s Tata Power SEO) is a big step towards Strategic partnership between the MoD and Industry. Programme 'Samudrika', which will result in achieving 100 percent indigenisation of the Electronic Warfare fit onboard Indian Naval Platforms, is also reflective of Indian Navy's continued efforts towards indigenisation."
Stressing on indigenisation and self-reliance, She said, "I am happy to note that shipbuilding projects worth over Rs 32,000 crore have been tendered and are progressing towards contract conclusion. Projects worth Rs 760 crore for construction of yard crafts are also being targeted for early conclusion through private and small shipyards, to bolster the 'Make in India' initiative and provide the necessary impetus to the Indian Shipbuilding Industry. With other shipbuilding projects covering a vast spectrum of weapon intensive platforms, Mine Counter Measure Vessels (MCMVs), Fleet Support Ships and Diving Support Vessels on the anvil, I am sure our Indigenous Shipbuilding Industry would rise to the occasion and keep pace with the Indian Navy's planned modernisation program."