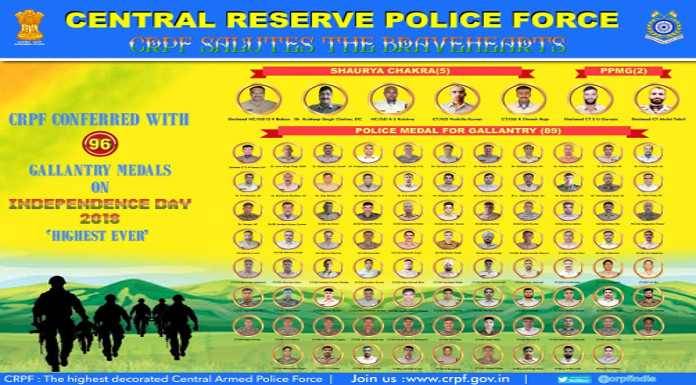 India's largest central armed police force has been awarded with maximum number of medals for gallantry, on the occasion of 72nd Independence day. As many as 96 medals for gallantry have been awarded to CRPF personnel including 5 Shaurya Chakra, 2 President's Police medals for Gallantry and 89 Police Medals for Gallantry.
Head Constable A S Krishna, Constable K Dinesh Raja and Constable Prafulla Kumar of the 45 Bn- three out of the five Shaurya Chakra awardees not only held their ground in the face of sudden fidayeen attack, but also could neutralise all the terrorists who masterminded such cowardly act. These three bravehearts along with their fellow officers and jawans could thwart an early morning fidayeen attack in the Industrial Area (Training Ground) in Sumbal under the Bandipora district of J & K on 5th June 2017, while eliminating all the four dreaded terrorists. The entire shoot-out that was fierce in the least was to meet with its logical end in just 45 minutes-thanks to the unmatched bravery and tactical acumen of the CRPF jawans!
The story of the other two Shaurya Chakra awardees of the 182 Bn is equally inspiring. Kuldeep Singh Chahar, Deputy Commandant and Saheed Head Constable Dhanwade Ravindra Baban of the 182 Bn were instrumental not only in frustrating a similar fidayeen bid in the District Police Line in the Pulwama district of Jammu and Kashmir on 26 th August last year but also in eliminating all the three terrorists who had planned the fidayeen attack. One could well imagine the level of resolve and retaliatory spirit of the Jawans of the Force who could achieve the rare feat in 'room intervention' excercise in an ordeal that lasted for over 20 hours!
Head Constable Ravindra Baban though laid down his life for the cause of the Nation in the treacherous gun-fire.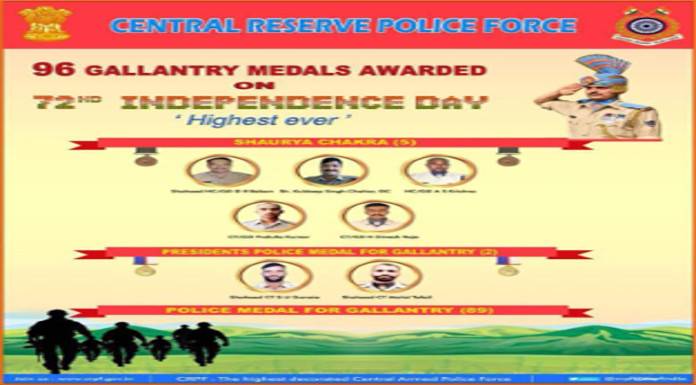 President's Police Medal for Gallantry (PPMG) has been posthumously bestowed on Constable Sharief-ud-din Ganaie and Head Constable Mohd Tafail. In a show of identical valour in yet another incident at the CRPF camp in Lethpora in Jammu and Kashmir , on Dec 30 , 2017, Head Constable Taufail Ahmed and Constable Sharief-Uddin Ganaie of the 185 Bn alongwith fellow personnel could outwit all the three trigger-happy terrorists through sheer courage and determination. In over 36 hours of grueling gun battle, these two bravehearts embraced martyrdom, but not before forcing all the three terrorists bite the dust.Besides them, 89 other personnel from the force have been awarded Police Medal for Gallantry (PMG) for undertaking daredevil action in militancy-hit Jammu and Kashmir and anti-Maoist operations in various states.

Besides, CRPF, Jammu and Kashmir Police has got 37 PMsG, Odisha Police (11), Border Security Force (10), Maharashtra Police (8), Chhattisgarh Police (6), among others. A total of 177 PMsG have been awarded this time, a government release said. A total of 675 meritorious service medals and 88 distinguished service medals have been accorded to the police personnel this time, the release stated.