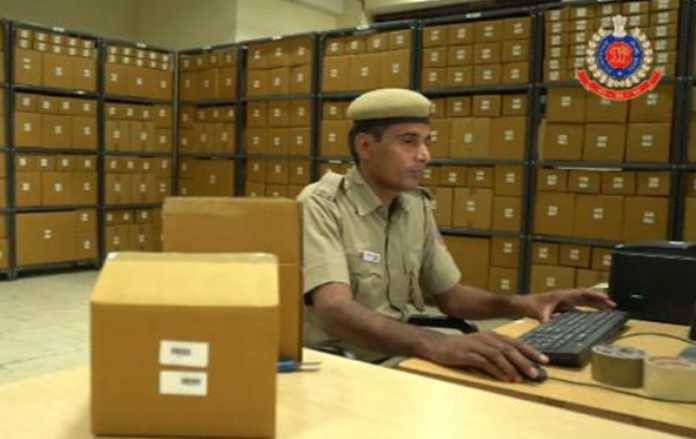 Delhi Police's Rohini District has became the third district after South-East and Shahdara districts to achieve complete digitization of 'malkhanas' (store for case properties) in all its 11 police stations. Delhi Police Commissioner Amulya Kumar Patnaik inaugurated the e-malkhana project for Rohini District at Police Station KN Katju Marg, today.
The digitization of all the case properties, their bar-coding, packaging in boxes, arrangement in order in proper shelves/ sheds marks a leap for Delhi Police towards achievement of the objective of SMART policing.
E-Malhana project will pave the way for handling of case properties in a more professional manner. Proper arranging of case properties has led to cleaning and clearing of police station premises, thereby creating more space & making the area presentable, people-friendly and welcoming. On the occassion of inauguration , the audience was also shown a short film, produced by Arijit Roy , on concept & implementation of e-malkhana system. The staff of Malkhanas of three other Police Stations was also communicated through video conferencing.
Police Commissioner Amulya Patnaik released a Training Manual hand-book on the subject, for awareness of staff deployed in Malkhanas.
Speaking on the occasion, Delhi Police Commissioner underlined that maintenance of Malkhana has always been a priority to keep the case property in safe custody and its retrieval for presenting before the court, and back safely. After digitization, it would be easy to retrieve the case property and would also save valuable time &energy.
Synchronization of functioning of malkhanas in all the 11 police stations of the district was a big challenge. Mr Patnaik commended Rajneesh Gupta Deputy Commissioner of Police (DCP) Rohini District and his team for their dedication for putting extra efforts in digitizing such large number of case properties in short span of time.
Special Commissioner Sandeep Goel and Rajesh Khurana, Joint Commissioner Atul Katiyar, Ravindra Yadav, Sagar Preet Hooda and other senior Police officers and representatives of RWAs were also present on the occasion.
How does e malkhana system works :
Delhi Police's E Malkhana is a system which consists of both software and physical upgradation of malkhanas. Details related to the case property are first entered manualy into the software, followed by uploading of its photograph. After this process case property is packed in a cardboard box to prevent damage, and a unique barcode is generated which is pasted on the box for identification .
The box is then placed on to a specific area in almirah or rack whose details are entered in the software. This proceedure makes easier to locate the case property by simply entering details of the case property in the software module. E Malkhana software also allows the details of any case property being visible at the simple click of a button.