Indian Police Service officer Ravi Sinha has been appointed the head of the intelligence organisation  Research & Analysis Wing in place of Samant Kumar Goel. Ravi Sinha is a 1988 batch IPS officer of Chhattisgarh cadre.  The present  Chief of RAW, Samant Kumar Goel, will retire on June 30, 2023, after completing his term on this post. Samantha Goel is a 1984 batch IPS of Punjab Cadre. The government has increased his service twice. Mr. Sinha will probably take over as Secretary of RAW on 1st July.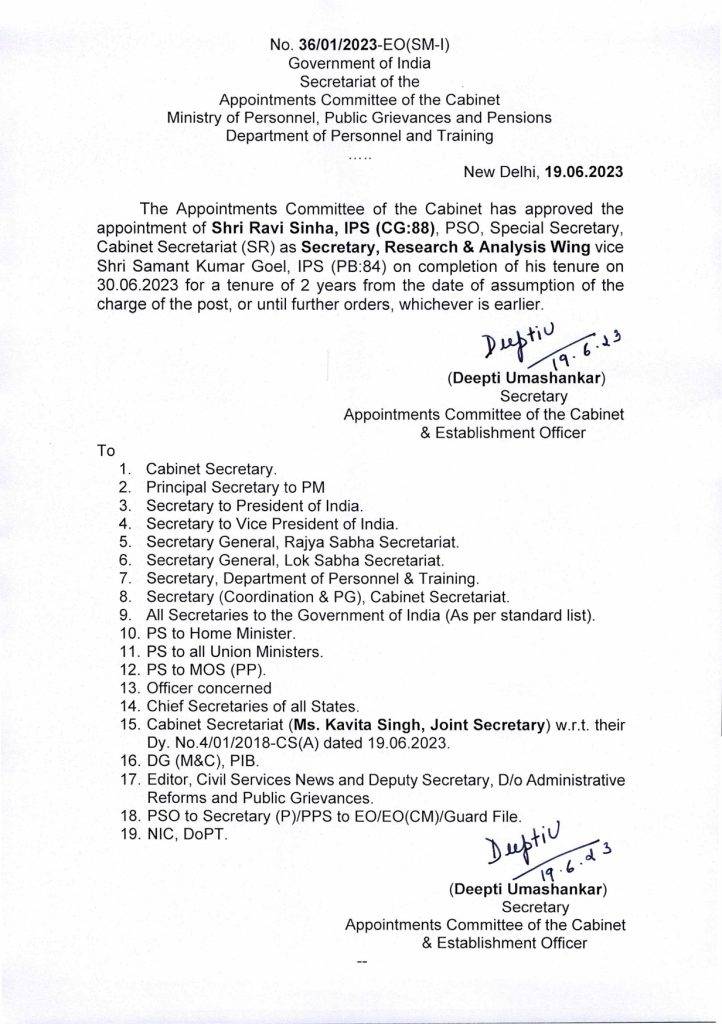 The Appointments Committee of the Cabinet has approved the appointment of Special Secretary Ravi Sinha as RAW Secretary in the Cabinet Secretariat. Orders in this regard have been issued by the Cabinet Secretariat today itself. The order communicates that until and  unless any other order comes, this appointment of Mr. Sinha will be for two years,  applicable from the date of taking charge.
The main task of RAW is to collect intelligence from abroad, to collect information related to terrorism so that it can be used in the interest of the country. RAW also provides many such information related to foreigners to the government, so that it can be used in the interest of the country.  This also helps in making international diplomacy. This information also helps various policy makers in formulating those policies which are related to other countries.
RAW was established in 1968. Its headquarter is in the capital New Delhi. It is a matter of great prestige for any officer to become the chief of RAW. Its head is appointed to the post of Secretary (Research) in the Cabinet Secretariat, which is directly under the Cabinet Secretary and the Prime Minister.
The first chief of RAW i.e. Research and Analysis Wing was Rameshwar Nath Kao, whose tenure was of 9 years. He played an important role in the merger of Sikkim state with India in 1975. Prior to RAW, the task of collecting and analyzing foreign intelligence was done by the Intelligence Bureau (IB).