As many as 24 officers and men of Delhi Police have been conferred Police Medal for their Services, on the occasion of 72nd Independence day. Five have been awarded with police medal for Gallantry, three President's Police Medal for distinguished service and 16 police medals for meritorious service. Special Commissioner of Police, Satish Golchha has been awarded with President's Police medal for distinguished service. Two Assistants Commissioner of Police, Rajender Singh Yadav and Sandeep Pali have also been awarded with President's Police medal for distinguished service.
Encounter Specialist and Special cell's Deputy Commissioner of Police Sanjeev Kumar Yadav has been awarded with Police medal for Gallantry. This is the ninth time when Yadav has been awarded. Lalit Mohan Negi, ACP, Hridaya Bhushan, ACP, Ramesh ChanderLamba, ACP  and Sub Inspector Sukhbir Singh have also been given Gallantry award.
DCP Yadav ( Special cell) and fearless officers Inspector Lalit Mohan Negi, Insp. HridayaBhushan, Insp. Ramesh ChanderLamba and SI Sukhbir Singh risked their lives and exhibited exemplary valor and motivation in the encounter October 2013.
What happened on October 24, 2013?
On 24.10.2013, at about 10.30 PM, on the basis of a specific input regarding notorious and dreaded gangster Surinder Malik @ Neetu Dabodhia and his associates, a White Hyundai I-20 car was spotted near petrol pump adjacent to Hotel Grand, VasantKunj. It was chased by police vehicles, when the occupants fled towards Hotel Grand to C-5 Block, VasantKunj. After a short follow-up, ACP Manishi Chandra while driving the car intercepted the I-20.  The criminals' car dashed into the Scorpio car and all the three occupants got down and tried to flee in different directions. Gangster Surinder Malik @ NeetuDabodha, sitting on the front left side fired at Scorpio targeting Manishi Chandra, ACP who had a narrow escape.  Firing indiscriminately, accused Alok Gupta- the driver and Deepak, sitting on the rear seat, fled on the back side towards Hotel Grand. However, Neetu Dabodha was blocked and challenged by DCP Special Cell, Insp. HridayaBhushan, SI Ravinder Joshi & ASI Vinod Kumar; accused Alok Gupta was intercepted by Insp. Lalit Mohan Negi and  SI Sukhbir Singh, whereas Insp. Ramesh Chander Lamba & HC Banney Singh faced accused Deepak Gupta. The fact that dreaded criminal Neetu Dabodha & his associates had already killed a Head Constable of Delhi Police, who tried to apprehend them, could not deter the brave and die hard police officers, who were in direct line of fire of the above said criminals. In self defense and in order to prevent the escape of the criminals, the above police officers also fired from their official weapons that resulted into their death. Insp. Ramesh ChanderLamba, SI Ravinder Joshi and SI Sukhbir Singh had a close shave by virtue of their Bullet proof Jackets as the bullets fired by the criminals hit the vests. During the encounter Sh. Sanjeev Kr. Yadav, DCP Special Cell, Insp. L. M. Negi, Insp. HridayaBhushan, Insp. Ramesh ChanderLamba, SI Ravinder Joshi, SI Sukhbir Singh, ASI Vinod Kumar and HC Banney Singh fired 3, 5, 5, 4, 2, 4, 3, & 6 rounds respectively.
DCP Yadav and his team had successfully neutralized the wanted desperate criminals and saved the lives of public persons and fellow team members. The brave action of Delhi Police won applause not only from the highest ranks of Police of different states but also from the Public at large. They have set an example of gallant act & dedication towards their duty.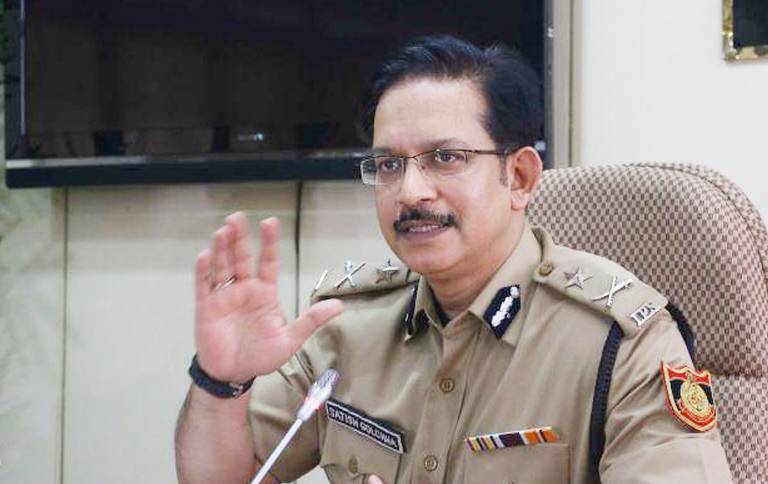 Satish Golchha is Special Commissioner of Police, Crime & EOW. He has played critical role in solving sensational criminal cases for which he received appreciation. Golchha has played a key role in investigation of several important cases such as Shopian case, Anti Sikh Riot cases, Rizwan-ur-Rahman murder case of Kolkata, NHRM scam, etc. During his posting as DCP/Traffic, an elaborate scheme for deployment of traffic police personnel in night at selected intersections was devised and introduced for the first time by the officer. During posting as DCP/West Distt., he played a pivotal role in apprehending hardened criminals, terrorists, gangsters and drug traffickers. During posting as Jt.CP/EOW, a drive for speedy disposal of P.I. cases was initiated as a result of which 654 cases were disposed off during the year 2014.