Jammu: Unprecedented security measures have been taken for the Amarnath Yatra which is slated to start from June 28 even as first batch of the Yatra was flagged off from Jammu's base camp in Bhagwant Nagar on Tuesday morning. High level meetings were held throughout the day on Wednesday to discuss various aspects of security.
A joint control room will be set up for better coordination among the security agencies and the Army. To ensure fool proof security during the 60 day annual yatra, a special motorcycle squad of CRPF will closely monitor yatra route and pilgrims.
CRPF spokesperson said that the CRPF has prepared a special motorcycle squad, which on one hand, will ensure the security of pilgrims on the yatra route and on the other, will also be used as small ambulances for them."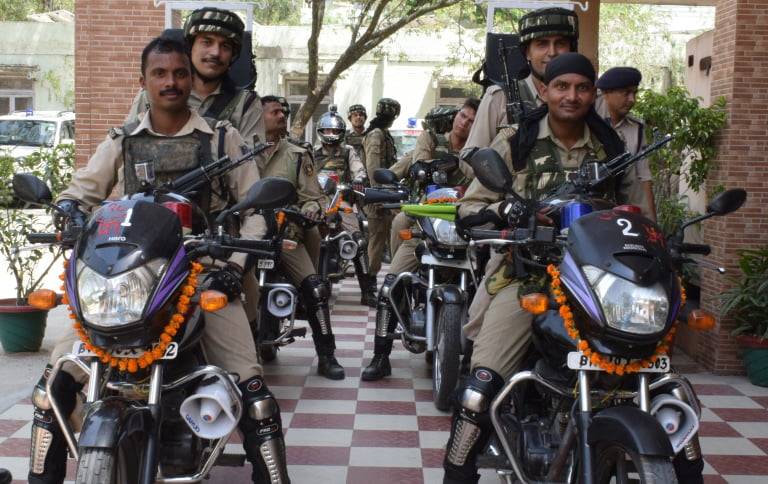 The CRPF has been using latest technology and vehicles for security of pilgrims. Besides, it has increased manpower as compared to last year. Every vehicle carrying Amarnath pilgrims will be tagged using radio frequencey identification ( RFID) which will be monitored at a control room made operational here. RF tag uses electromagnetic fields to automatically identify and track object attached to it. According to senior officials, the pilgrimage route will be closely monitored with the help of satellites, installation of jammers, CCTV cameras and bulletproof bunkers, deployment of dog squads and quick reaction teams.
Besides, multi-tier security arrangements have been made for the yatra. More than 40,000 armed CRPF and state police personnel will be deployed in armoured vehicles along routes from Jammu– via Pahalgam and Baltal. Forces have deployed a huge assortment of CCTV cameras and drones, assisted by mounted Army columns, to ensure that the yatra route is not breached by terrorists and in case of a possible attack reinforcements reach as fast as possible.