Come Republic Day, personnel from defence and paramilitary forces remain busy in republic day rehearsals in the lawns of India Gate in Delhi these days. Personnel from Army, Navy, Air Force and other paramiliary forces including states police can be seen wearing colourful uniforms. From Defence Minister of State to top officials of forces have been visiting them to oversee the rehearsals for big republic day celebrations. On Monday, Navy Chief Admiral Sunil Lanba visited National Cadets Corps (NCC) headquarter to oversee the work of NCC whose contingent will take part in Republic day celebrations. Admiral Sunil Lanba,visited the DG NCC Republic Day Camp at Cariappa Parade Ground, Delhi Cantt.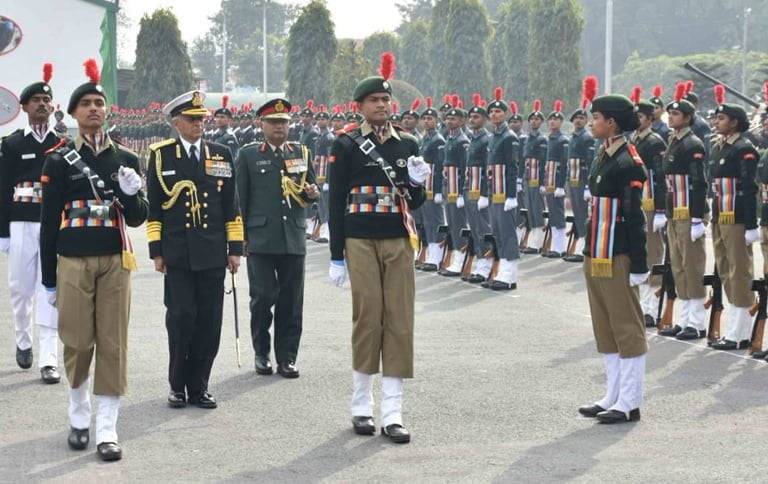 The Chief of the Naval Staff reviewed an impressive 'Guard of Honour' by the smartly turned out Cadets selected from all the three Wings of NCC i.e. Army, Navy and Air Force. This was followed by a brilliant band display by the cadets. Admiral Lanba also inspected the well laid out flag areas prepared by the National Cadets Corps cadets, from all the 17 NCC Directorates, depicting various Social Awareness themes.
Various Naval ship models fabricated by the cadets were also displayed.Later, the Admiral witnessed a spectacular cultural performance put up by the multi talented the Cadets, depicting the rich Indian Culture.
Speaking on the occasion, the Chief of the Naval Staff complimented the Cadets for presenting an impressive 'Guard of Honour'. He was impressed by the smart turnout and drill of the Cadets. He stated that National Cadets Corps is a premier youth organisation which single- mindedly engaged in grooming Nation's future leaders and empowering them to don the mantle of country's leadership, as well as excel in all walks of life.
He noted the contribution of National Cadets Corps Cadets towards nation building and their indomitable spirit and support during calamities. He also appreciated the efforts in pursuit of naval activities, to include long duration and high risk sailing. The CNS also urged the NCC Cadets to join the armed forces and serve the motherland.
What is National Cadets Corps?
The National Cadet Corps is an Indian military cadet corps with its Headquarters at New Delhi. Students from schools, colleges and universities can join NCC on voluntary basis. National Cadet Corps does not belong to either Army or Air Force. NCC is a Tri-Services Organization, comprising the Army, Navy and Air Force.
What does NCC do?
NCC is involved in grooming the youth into disciplined and patriotic citizens. The Cadets are trained in small arms and parades. Any trained National Cadets Corps cadet cannot pressurise superior officers for active military service once they complete their course.