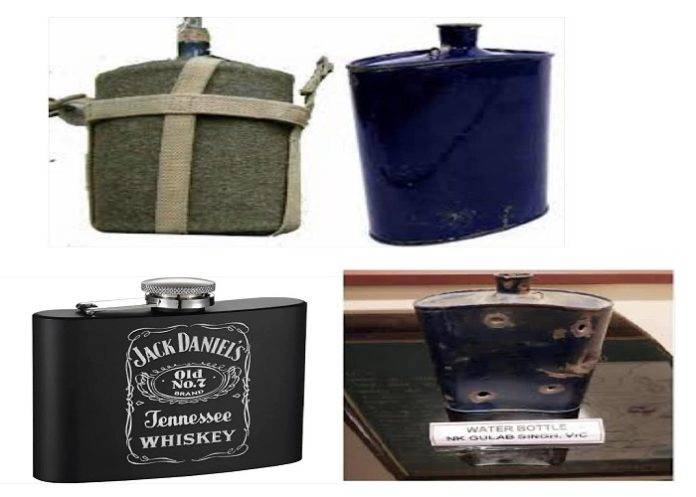 The first one is the humble predecessor of the more famous HIP FLASK. But whereas the modern hip flask (second and third picture) is mainly used for small amounts of Rum / Whiskey and is inserted in the hip pocket, this has a dual function!
Mainly used by soldiers for carrying a litre of water , this rests on the hip and was thus contoured ( and thus hip flask) and is secured with the belt soldier wears around his waist. It was more famously known as " Canteen " ( KANTEEN )" for whatever reason!
The village guys used to look for it when a soldier visited home on leave. Its Blue Enamel colour was very distinct. The "Biradari" used to visit the soldier's house in the evening with eye's searching for the " KANTEEN ".
And lo and behold, the soldier opens it and RUM pours out ! With a round of applause it was shared over small talk!
This was the second and more famous use of the water bottle !
However, like a buddy , many times it saves soldiers' lives from enemy bullets !!!!
NOTE : The Bullet ridden bottle in above pictures belongs to Naik Gulab Singh of 13 Kumaon. He made supreme sacrifice while displaying exemplary courage and devotion to duty in the battle of Razangla in Ladakh while fighting with the Chinese army in November 1962. Naik Gulab Singh was awarded Vir Chakra ( posthumously)