Four days before his superannuation, Rakesh Asthana an Indian Police Service PS officer was on Tuesday appointed Commissioner of Delhi Police. Rakesh Asthana is a 1984 batch IPS officer of Gujarat cadre and was serving as Director General of Border Security Force. As per order he has been asked to join as the Delhi Police Commissioner with immediate effect. At present , Balaji Srivastava, a 1988-batch IPS officer of AGMUT cadre , is commanding the Capital's Police as an additional charge of Commissioner. This is one of the rare cases when an IPS officer outside of the AGMUT cadre has been appointed as Delhi's Top Cop .
Shri Asthana, was to retire on July 31, 2021. According to the Ministry of Home Affairs order, Sh.. Asthana, who was serving as DG,BSF, will join as the Delhi Police Commissioner with immediate effect. Meanwhile IPS Surjeet Singh Deswal has been asked to take additional charge of DG, BSF till further order. Sh. Deswal is Director General of Indo Tibet Border Police (ITBP). He is a 1984 batch IPS officer from Haryana cadre .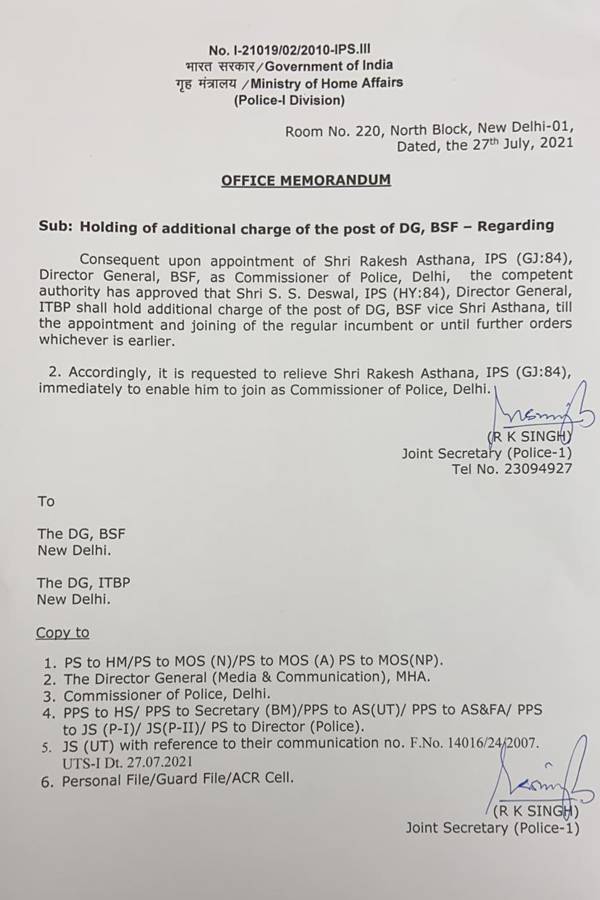 .While clearing Mr. Asthana's appointment as Delhi Police Commissioner , the Appointments Committee of the Cabinet (ACC), headed by Prime Minister Narendra Modi, approved the inter-cadre deputation from Gujarat to AGMUT cadre. The committee also extended Sh.. Asthana's service initially for a period of one year , i.e. July 2022, beyond the date of his superannuation or until further order, whichever is earlier.
This is one of the very few instances (probably third) when an IPS officer outside of the AGMUT cadre has been appointed as the Chief of Delhi Police chief. Prior to Asthana, S S Jog and Ajayraj Sharma were two such officers.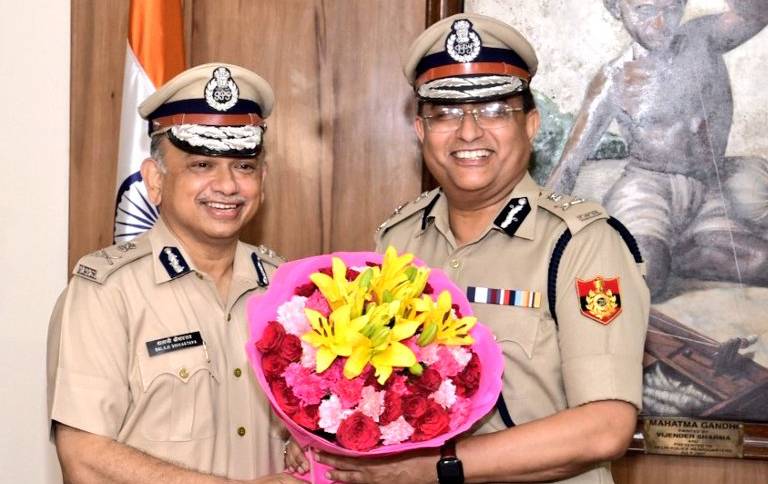 IPS Rakesh Asthana had earlier served as the Special Director of the Central Bureau of Investigation. where he was engaged in an unsavoury spat with the then CBI Chief and Director Alok Verma. Both the officers were removed from the central probe agency. In 2019, Sh. Asthana was appointed DG , Civil Aviation Security. Shri Asthana was the Chief of Narcotics Control Bureau when actor Rhea Chakraborty was arrested in a drugs case in Mumbai. Shri Asthana investigated the infamous Fodder Scam and filed a chargesheet in !996. It was then Lalu Prasad Yadav first time in the case.
Rakesh Asthana also caught the Director General of DGMS taking bribes in Dhanbad (Bihar). Until then , this was the first case of its kind in India , when the officers of the Director-General rank had come under arrest. IPS Rakesh Asthana investigated the bomb blast case on July 26, 2008 in Ahmedabad. He had settled the case within 22 days. Rakesh Asthana had also examined the case of controversial Sant Asaram Bapu and his son Narayan Sai.