Yet another achievement by the Defence Research and Defence Organisation (DRDO) as it successfully test-fired 500 kg class inertially Guided Bomb from Su-30 MKI Aircraft in Rajasthan's Pokhran test range. The indigenously developed guided bomb achieved the desired range and hit the target with high precision. All the mission objectives have been met, said the defence ministry. The weapon system is capable of carrying different warheads.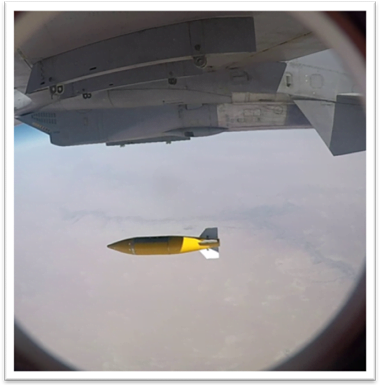 IAF test fires BrahMos missile
The DRDO's test firing came two days after the Indian Air Force successfully fired the BrahMos air version missile from its front line Su-30 MKI fighter aircraft. The air launched BrahMos missile is a 2.5 ton supersonic air to surface cruise missile with ranges of close to 300 km.
This was the second time when the Air Force launched the weapon live. The integration of the weapon on the aircraft was a very complex process involving mechanical, electrical and software modifications on aircraft. According to the Defence Ministry, the BrahMos missile has provided Indian Air Force a much desired capability to strike from large stand-off ranges on any target at sea or on land with pinpoint accuracy in day or night and in all weather conditions.
The capability of the missile coupled with the superlative performance of the Su-30MKI aircraft gives the IAF the desired strategic reach, stated the ministry press statement.