The 4th Coast Guard Subordinate Officers Conclave 2019 started here today in New Delhi. The two-day conclave at Coast Guard Headquarters will have brainstorming and various other plenary sessions, involving highly motivated and committed subordinate officers who have come from various units of Coast Guard across the country. Conclave was inaugurated by Director General of Indian Cost Guard, Rajendra Singh.
According to a press release, Indian Coast Guard (ICG) has not only broadened the horizons of subordinate officers but also has provided them a platform to express their innovative ideas, thought process before the highest decision-making echelons in the service. While speaking on the occasion Director General Rajendra Singh said that the idea of Subordinate Officers Conclave is in sync with the Prime Minister's vision to encourage innovative idea towards inclusive growth of the Service.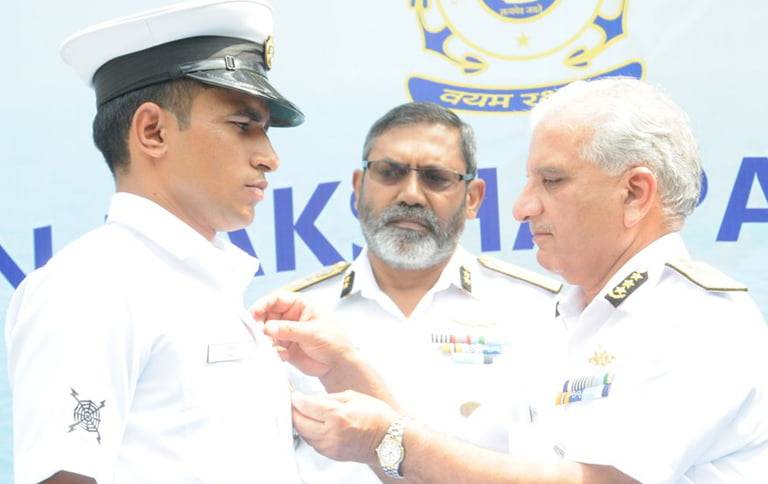 Director General Rajendra Singh also conferred 'Uttam Jeevan Raksha Padak' on Navik Vinod in recognition of his exceptional courage, expert use of lifesaving techniques and selfless attitude displayed in saving a precious life of a women drowning in to rough sea due to monsoonal weather conditions in pitch dark hours near Gateway of India, Mumbai in 2018.
A Coast Guard Benevolent Association App was also launched by DG Coast Guard on the occasion. With the launch of this App the Coast Guard Personnel can log on the site and apply for the required financial assistance online. This App is a step forward towards paperless Office and ease of transactions.
According to a press release the deliberations in the 4th Conclave will focus on accountability in job profile, improving lifestyle for healthy living and more importantly integrating evolving technology in Coast Guard operations, especially towards strengthening search and rescue organisations during cyclone and floods.