The stage is all set for the inauguration of the much awaited -day Military Literature Festival (MLF) 2018, with the opening ceremony by Punjab Governor VPS Badnore on Friday at the Lake Club of the City Beautiful Chandigarh.
Open to one and all, with free entry to all events, MLF 2018 will offer a great opportunity for the younger generation to get acquainted with India's glorious military heritage, while also bringing a host of cultural activities, food cuisines, competitions etc to the public.
The Fest, from December 7 to 9, is a joint initiative of distinguished military historian and Punjab Chief Minister Captain Amarinder Singh and Punjab Governor VP Singh Badnore, with full support extended by the Western Command, Indian Army.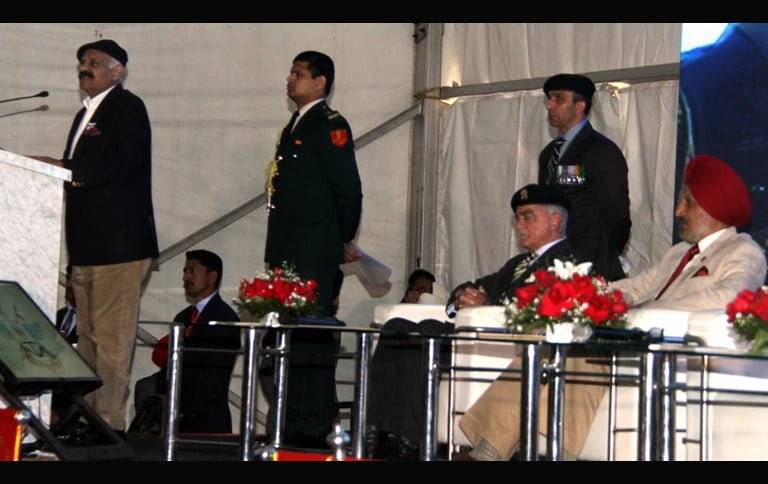 Giving the details of the programme, an official spokesperson said that following the inauguration by the Punjab Governor, the first day would witness invigorating sessions by noted military historians, experts, and defence strategists during various panel discussions on topical subjects related to military history and literature.
The first session on 'Role of Cross Border Operations & Surgical Strikes', would be moderated by Lt Gen D S Hooda with Lt Gen NS Brar, Lt Gen JS Cheema, and Col Ajai Shukla as participants.
Another session on 'Punjabi Poetry, Literature & Folk Forms Fostered by the First World War' would have eminent writers like Bubbu Teer, Surjit Pattar, Swaraj Bir Singh, IPS – Moderator, Prof Jasbir Singh, Dr. Manmohan Singh(IPS), Brig K.S. Khalon on its panel.
On the occasion, noted Hindi litterateur Mrinal Pande would moderate the session on 'Hindi – The Heroic Tradition (Vir Ras) in Hindi Poetry with Hindi – The Heroic Tradition (Vir Ras) in Hindi Poetry'.
On the second day, Captain Amarinder Singh would share his thoughts on the 'Contribution of India towards the First World War' along with Sqn Ldr RTS Chhina as moderator, besides Prof David Omissi, Prof Anju Suri, Santanu Das, Lt Gen NS Brar as participants.
Noted journalist and columnist Vir Sanghvi would have an interactive session with Captain Amarinder Singh on 'Valour, History, Politics and Media', which will also see actors Sonu Sood and Gurmeet Chaudhary on board.
The other renowned panelists who would be participating in the live discussion include Former Chief of Army Staff Gen. V P Malik, Lt. Gen. (Retd.) T S Shergill, Lt. Gen. K J Singh, Colonel V K Vasudeva, Lt. Gen. Satish Dua and Vishnu Som.
The afternoon session would see Punjab Governor V P Singh Badnore in the session on 'The Guerrilla Campaign of Maharana Pratab' with Prof. Rima Hooja moderating the session, followed by another exciting deliberations on the topic 'Wisdom of Spies' with A S Dulat, IPS alongwith Lt. Gen. Kamal Davar and Lt. Gen. Sanjeev Langar as the participants. K C Verma would be moderating the session.
The third and the concluding day would have live discussions on sessions 'Two Battles For Survival – Ferozshah 1848 and Chilianwala 1849', and 'Indian Cavalry Charges of the First World War and the Gallipoli Campaign' with Captain Amarinder Singh, Lt. Gen. T S Shergill, Dr. Indu Banga, Tony McClenaghan and Brig. Sukhjit Singh as prominent panelists.
As many as forty short films on real wars and battles fought by the Indian Army during its eventful journey spanning since independence would be the another star attraction during MLF.
Similarly, decorated armed personnel and distinguished war heroes, including Maj Suveer Rathore, SM Hav Sandeep Kumar SM, Nk Gopal Singh SM, Lt. Cdr Vartika Joshi, Col SK Anand, Col HS Kahlon, VrC, Wg Cdr BD Singh, SC, Gp Capt AS Salaich, SC, Tank Crews, 7th Cavalry, Col Balwan Singh, MVC, Sub Maj Yogindra Singh, PVC, Nk Kapil Dev, SC, Nk Hazari Lal, SM, Col KS Virk, Maj Gen Raj Mehta, Brig TPS Chowdhary, AVSM, would interact daily with the youth to share their tales of valour during their service years.
Besides, marshal dances, weapons display, medallion gallery, artists' corner, cultural activities and exhibitions, food and cuisine, book fair, children's Saragarhi Samvadh would be amongst other scintillating activities to reverberate the minds of participants and visitors with heroic tales of our brave soldiers during the three day MLF.